Will school ever be back to normal?
NN students return to school March 1, 2021
So you wonder how school is going to be with this hybrid learning, you wonder how it's going to look for these three months? This school year has been rough and complicated. Students have been looking at computer screens every single day, for at least four hours or more. Students have not been in school for almost a year and they are going to be interacting with teachers. 
Students will be divided into two groups, one group of students (last names A- L) will attend school on Monday and Tuesday and the other group (last names M – Z) will attend on Thursday and Friday. Each day, students will not be in the building after 11 am. Students will only attend for Early Bird, 1st, and 2nd period, while the rest of the periods students will do school at home. Wednesdays will be asynchronous days, so the staff can sanitize the school down for the next group to come to school. 
When students enter the school, it will be mandatory for them to fill out a survey for being qualified to come to school. It is mandatory for all students that are returning to school to wear a mask and social distance from each other. Their temperature will be checked and there is going to be limited entrances. 
Students will have to sanitize things they touch and use. There are going to be fewer students in the classroom, a maximum of 10. The desks are going to be six feet apart from each other. There will be limited people in the lunchroom and students will be spread apart.
If the Covid cases decrease, the school schedule is going to be changed. Instead of students completing their rest of the school day on Zoom, students will be in class throughout the whole day and be dismissed at 1:50 p.m.
About the Writer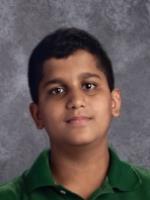 Adnan Khan, Reporter
Adnan is a senior and is writing for the NSN for the first time. He was on the baseball team for two years.