NN Chinese classes connects with sister school in China
On Wednesday, April 27, Niles North's Chinese classes gathered in the New Commons to zoom call their Chinese sister school, Fuzhou No. 1 High School to get to know each other and ask questions. 
Fuzhou No. 1 High School is located in Fuzhou, China, and is a three-year high school with a student population of 3300 students. The school is celebrating its 205th birthday this year. 
Niles North's relationship with Fuzhou No. 1 High School started back in 2019 when Niles North Chinese students sent letters to Chinese president Xi Jinping, who inspired them to send letters to students attending Fuzhou High to strengthen Chinese-American relationships. In November 2019, the schools signed an agreement to become sister schools. 
There were plans for Niles North students to visit Fuzhou during the summer of 2020, but unfortunately, due to covid, the trip was canceled. However, that hasn't stopped the communication between the schools. There have been multiple exchanges between the schools, sending letters back and forth, as well as videos showing off talents. 
Limin Dove, a Chinese teacher at North and Fuzhou No. 1 High School alum, planned the latest interaction between the school, perhaps the biggest yet. 
"I was a little bit concerned about the potential technical problems and 13 hours time difference between Fuzhou and Chicago. But the Zoom meeting went really well!" Dove said when asked about the planning for the event. "They were able to connect so naturally, and had some great interactions!"
"
They were able to connect so naturally, and had some great interactions!"
— Limin Dove, Chinese teacher
Students in both schools were given the opportunity to ask questions regarding school life and culture over the call. 
"I really enjoyed when the students at Fuzhou No. 1 High School showed us traditional dress and taught us a verse from a song called 茉莉花 'Jasmine Flower'," senior Chinese student Cameron Unwin said. "It was a great cultural exchange."
"My favorite part of the call was when we were making jokes and both sides had fun and laughed together," sophomore Chinese student Noor Huda said.
The future of the relationship between the schools remains optimistic, with hopes of traveling to China and future zoom calls.
"I hope we can have more Zoom meetings with them, and now that we are familiar with each other, I hope that our next meeting will be much more comfortable and fun," Chinese student Maryam Mehdi said.
"I hope that we can have a true exchange and travel to China as well as host students in the next two years," said language director Todd Bowen. "In the meantime, the continued exchanging of videos and emails will be great for developing friendships, cultural, and language skills."
To see more pictures of the event from the perspective of the students in Fuzhou, check out this article they posted. 
Leave a Comment
About the Contributor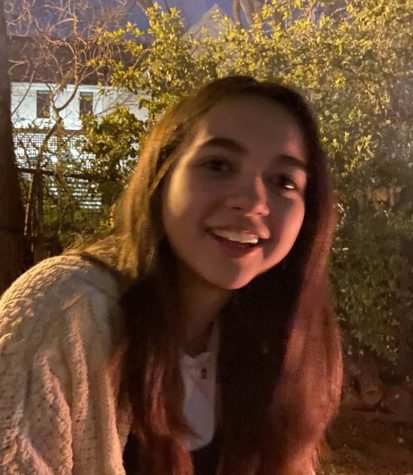 Penelope Roewe, Public Relations
Penelope is a sophomore at Niles North and this is her second year on North Star News. She is the features editor as well as the social media coordinator....