Fall into a new book: Skokie Public Library Fall Events
Hang on for a minute...we're trying to find some more stories you might like.
The Skokie Public library is known as one of the best libraries in the United States and its programs are amazing. From the clubs that they host every month to the movie nights and author visits, there is almost something for everyone. This list covers the upcoming events from now until late November. Anyone with a library card can sign up at the Youth Services desk for any of the following events.
Clubs/classes:
Anime Club: Come to Anime Club to read new issues of Manga for free and watch some Anime on the big screen. Japanese themed snacks are served at each meeting. This club meets the first Thursday of every month at 7 p.m..
Bike Managment: Learn how to properly take care of your bike for the winter. This hands on class will teach you about preventing flats and tips for riding in the cold weather. Registration is required and is open now. This meeting is on November 8 at 2 p.m. and is open for all ages.
Movies/Activities:
Write On!: All local writers are welcome to this workshop to help with editing and expanding stories with the help of other aspiring authors. This meeting is on October 27 at 7 p.m.. Registration is required.
Writing Memorable Characters: Come for an information workshop on writing interesting characters with award winning mystery author Gail Lukasik. There also is an opportunity to get pre-signed copies of her newest novel, Peak Season For Murder. Registration is required. Lukasik will be at the library on November 5 at 7 p.m..
Cosplay Ball: On November 7 at 7 p.m., the Skokie Public Library is hosting a cosplay ball. Come dressed up as your favorite character from any fandom and enjoy refreshments and music. There will be prizes for the best costumes. Register by November 6, which is the day before.
Mockingjay Double Feature: Dress up to come watch The Hunger Games and Catching Fire in the library's auditorium on November 15 at 12:30 p.m.. This is a celebration of the release of the next movie, which will be on November 22. Best costume will win a basket of Hunger Games themed goodies.
Mario Kart 8 Tournament: Battle in the new version of the classic game for Wii U in the Teen Lounge. Registration is required. Marios and Luigis of all ages can join in on the fun. Bring your A game for a chance to win a GameStop gift card. The battle takes place on November 22 at noon.
Godzilla: On November 11, the library will be hosting a showing of the 2014 remake of Godzilla. It's open to teens and adults and will start at 7 p.m. and goes on for two hours. Come see one of this years biggest films on the big screen.
Jersey Boys: This movie based on the award-winning musical finally hit the big screen and is now coming to the Skokie Public Library. Head to the library on November 14 at 1:30 p.m. to sing along to these swinging tunes.
Ghostbusters: The hilarious movie about three ghost hunters is a classic movie and perfect for Halloween. Come to the library before going trick or treating to watch Ghostbusters at 1:30 p.m.
About the Writer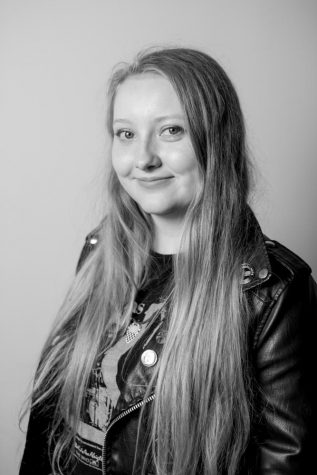 Katelin Aanerud, Editor in Chief
Kate is a senior and this is her fourth year on Northstar News. She is this year's Editor in Chief, and Feature Editor. She is involved in Viking Strings...