Jeff Bezos should save the world, not just Notre Dame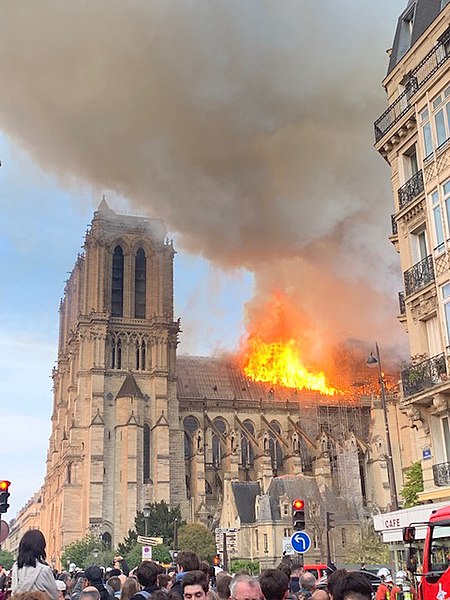 On April 15, a structure fire broke out in the Notre Dame cathedral in France. In just a couple days, billionaires around the world had pledged over one billion dollars in donations for the reparations.
The show of unity is refreshing, and the donations will likely be more than enough to cover the damage.
Meanwhile, there is a social emergency in France, where protests denounced social and financial inequality. More than 8 million people in France live on less than 954 euros (about 1,063 dollars) a month. (The Borgen Project)
Meanwhile, climate change and environmental pollution threaten to wipe out thousands of people if a change isn't made in the next couple of years.
Meanwhile, there are humanitarian crises all around the world in several underdeveloped nations, such as those in Syria, Venezuela, and Yemen.
"In just a few hours today, 650 million euros was donated to rebuild Notre Dame," South Africa-based journalist Simon Allison tweeted. "In six months, just 15 million euros has been pledged to restore Brazil's National Museum. I think this is what they call white privilege."
The Notre Dame cathedral is a historical landmark and the people of the area feel an emotional connection to that part of their heritage. Donating money to help repair it is a person's right and privilege.
However, the rate at which wealthy people were able to donate such a large amount of money for the cathedral brings something important to light. People have such a surplus of money that they are able to collectively give over a billion dollars in such short notice, and are reluctant to donate to other, perhaps more urgent issues. According to Time Magazine, billionaires made so much money last year they could end extreme poverty seven times. In the most extreme example of this, Jeff Bezos currently has enough wealth to buy a $200,000 home for every homeless person in America (including children) and still have enough money left over to fix Flint's water crisis 12 times.
Economic inequality has always been an issue in the world, and it will take something dramatic and major to fix it quickly. However, it does not take something dramatic or major for the people who have been given more wealth than they could spend to contribute to bettering our world. This does not mean that Jeff Bezos needs to put on a Superman costume and end world hunger in one week, but if billionaires can collectively give a billion dollars just for a cathedral, they are able to contribute something to other, more pressing issues.
The money for the cathedral does not even have to go to some foreign cause. There is an economic crisis right there in France, and the Yellow Vest Movement has been protesting the inequality for years. However, nothing is being done.
"If they can give tens of millions to rebuild Notre Dame, then they should stop telling us there is no money to help with the social emergency," Philippe Martinez, head of the General Confederation of Labor union, said on Wednesday.
The Notre Dame cathedral is a historical landmark and it should be repaired. However, our priorities seem to be a little backward. I would say issues like extreme poverty and life-threatening climate change are a little bit more pressing than one's heritage because if we don't work on bettering our world, even that heritage is at risk.