The Super Bowl LIV Recap
On Sunday, February 2nd, Super Bowl LIV was full of thrilling surprises that took fans by no surprise. After 50 years of waiting, the Kansas City Chiefs outscored the San Francisco 49ers, 31-20.

The Kansas City Chiefs were the favorites in the matchup and they definitely didn't disappoint. I went around Niles North asking staff and students for their game predictions and 12 out of 20 people chose the Chiefs due to the high-volume offense.

The Super Bowl 54 champs took over the game in the 4th quarter when Kendall Fuller, the Chiefs safety, caught an interception that finalized the game score. 

Chiefs Quarterback, Patrick Mahomes, in his second year as a starter also went home with the Super Bowl MVP award for the first time.

Even though the game was exciting, the half time show was the main attraction with performers Jennifer Lopez and Shakira taking the stage. Shakira started off with her performance and was joined by Latino Rapper Bad Bunny.

Jennifer Lopez then came on performing hits like 'Jenny from the block" and 'Get Right " which got the crowd going. Jennifer Lopez's 11-year daughter Emme was a guest performer along with Rapper J Balvin.

Both singers collaborated on a final performance to close out the half time show proving it was worth your while watching.

Lastly, this year's Super Bowl commercials were not only the most expensive but included the first-ever presidential campaign commercial. Google came out with a commercial that shows people how they can use Google to help families keep their memories alive.
Tom Brady came out with a Hulu commercial that was seen to be about his offseason decision. Came out in a black and white video on the football field that had everyone thinking about his decision but instead, it was sponsorship for Hulu.
About the Writer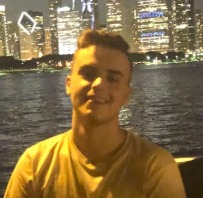 Dzenan Hodzic, Reporter
Senior , Bosnian- American who was born and raised in Uptown , Chicago . He has high interest in sports from Basketball, Football and Soccer. He spends...