Motherless Brooklyn Shakes Down Theatres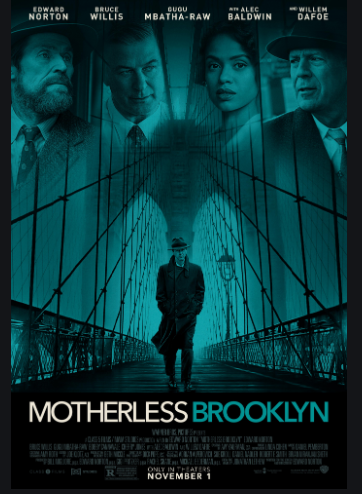 Motherless Brooklyn is a movie which takes place in 1950's New York city as we follow Lionel Essrog, played by Edward Norton, through his travels in not only the twisting roads but also the twisting roads within his mind as he attempts to solve the mystery behind a shady businessman named Moses Randolph, played by Alec Baldwin. 
This story takes place in 1950's New York City, with the main characters Lionel Essrog and Laura Rose, played by Gugu Mbatha-Raw, as she attempts to fight Moses Randolph's destruction of many "slums" throughout the city. Both Laura and Lionel's stories are roped together as they find themselves involved in the same mystery, though at first it seemed as though they were chasing different results. 
Edward Norton, who plays the leading role in this movie, does an outstanding job in his playing of a detective gumshoe suffering from tourettes syndrome. Which allows for some comical moments in this otherwise serious movie as he says something seemingly at random which when a character is present who has no knowledge of his condition may take it the wrong way, as he unintentionally spouts an insult at an unsavory character. Alec Baldwin also did a good job in his role as Moses Randolph, the main villain of the film, he does a great job of projecting his presence over the whole of the movie even if his physical presence is not there. 
I enjoyed this movie very much, and there are some things that I think were notable about it. One thing I believe this movie did well was the pacing. It felt very intimate with the characters, and how they interact with the world they find themselves in. The pacing of the movie helps to lend some of this intimacy through the way that you find things out, and find clues about this mystery along with the main characters which really makes you feel as if you are in this version of New York City. Another great aspect of this movie is the clever red herrings which are put in at different points of this movie, which lend to the mysterious aspect of this work.
I would say any person who enjoys mysteries, dramas would enjoy this movie to its fullest extent. I would however say that this movie's ending is not as satisfying as one might want from a movie of this type. The ending leaves the viewer with a delayed satisfaction in a sense, as you know that satisfaction will come for these characters off the screen as this story continues even after the movie ends, but this satisfaction is not present on the confines of the movie screen, and so if you do not enjoy unsatisfactory endings this one may not completely be for you. 
Overall I would have to give this movie a 4 out of 5. With its witty banter, clever dialogue, and interesting premise this movie is a must see.
About the Writer
Ian Imhof, Reporter
Ian is a senior at Niles North High School, who runs Cross Country, and is a 17-year-old reporter, who enjoys writing about politics, the presidency, world...