Eric Rosen titled FIDE Master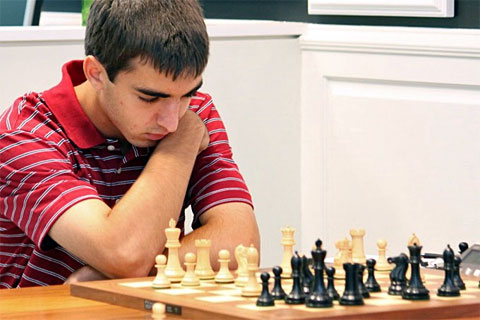 If you don't already know Eric Rosen, Niles North's chess virtuoso and most recent Homecoming King, he's just given you yet another reason to make his acquaintance. In addition to holding the title of current high school national champion, Eric spent two weeks of November in Brazil playing with some of the best junior chess players in the world, earning 9th place in his section of 99 players.
Overall, Rosen played a total of nine games, only losing to one of the strongest junior players in the world, grandmaster Samvel Ter-Sahakyan from Armenia. Rosen faced several well-known players, ultimately winning four games, drawing two and losing only one. As with many tournaments his matches were incredibly demanding, mentally and physically. Rosen explained, "Once a game begins, there are no breaks until it ends. With strong opposition, one bad move can cost the game. My 9th round game was the longest. It lasted just over five hours and ended in a draw."
But Rosen is no stranger to success. The reigning junior national champion currently sports a rating of 2404, earning him the official title of FIDE (Fédération Internationale des Échecs, World Chess Federation) Master. Rosen started playing chess before he was even in the second grade, and his skill was immediately apparent. An incredibly gifted player, he began training with Dmitry Gurevich, a grandmaster whom he works with over Skype at least once a month. As Rosen spent his early years building up an understanding of the game far better than most adult players, he began to compete in tournaments nationwide, particularly throughout his four years at Niles North.
In 2009, he defeated grandmaster John Federowicz, a player holding the highest official title a chess player can hold. Even more recently, Rosen earned the title of National K12 Champion in late April of 2011. With several four- or more hour matches at the tournament, he played and studied his opponents nearly nonstop for the three-day tournament, and ultimately won all seven of his matches to take the championship in a manner that the U.S. Chess Federation described on its website as "one of the outstanding individual achievements in this tournament's history."
With his numerous tournament victories and incredible rating, Rosen has since been invited to play in many prestigious tournaments, such as the World Chess Youth Championship and the upcoming North American Masters tournament beginning Dec. 26. With several months remaining in the season, he hopes to defend his national championship later this year in April at the National High School Championship.