Mad hatters and mayhem promised in Alice Through The Looking Glass
Hang on for a minute...we're trying to find some more stories you might like.
Tim Burton and Disney's collaboration to bring the world of Wonderland to life had us all filled with a child-like amusement back in 2010, but can they do it again? Scheduled for a May 27, 2016 release in theaters worldwide, the Alice In Wonderland sequel, titled Alice Through The Looking Glass, will bring back all of fans favorite characters for a take on the Lewis Carroll classic.
The second novel follows Alice, played by Mia Wasikowska in the film, through her mantel mirror into a world very similar to Wonderland. But, how faithful will this adaptation be? With Johnny Depp reprising his role as "The Mad Hatter", and the character hardly being mentioned in the original story, we can't be completely sure if the film will even be based off the book and just harnessing the title
Helena Bonham Carter will also be appearing in the movie as Red Queen, and Anne Hathaway will be opposite her as the White Queen once again. Other stars from the previous movie are due to return such as Alan Rickman, Matt Lucas, and Stephen Fry.
Walt Disney Studios has so far released three teasers, all of which give us a glimpse at some classic character, and a mysterious tag line. The first, released on Nov. 1, features the tagline " It's time to go back" and what appears to be Wasikowska as Alice opening a door that causes her drop down into the sky. The second, tweeted out the following day, begins with "It's about time" and shows a blue butterfly, possibly the blue caterpillar featured at the end of the first, flying through a mirror. The last, given to fans this morning, takes a much darker turn reading "time in not on your side" and gives viewers a first glimpse at the Red Queen's castle and the shadow of Carter.
"I loved the first movie, and the book but I haven't gotten to reading the second one. It looks a lot darker than the old one, and creepier than most Disney movies. I still plan on seeing it in the theaters, though, because I haven't seen a Tim Burton movie I haven't liked, " said Mollie Chez, sophomore.
Catch Alice Through The Looking Glass in theatres on May 27.
About the Writer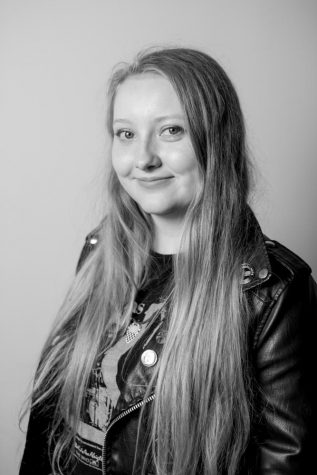 Katelin Aanerud, Editor in Chief
Kate is a senior and this is her fourth year on Northstar News. She is this year's Editor in Chief, and Feature Editor. She is involved in Viking Strings...