Muppet mania for a new generation, or not?

Old and new fans are welcoming the Muppets back to television with a big bang. Kermit, Ms. Piggy, Fozzie, Pepe, and Gonzo are all back for a star studded new season of shenanigans on ABC on Tuesdays nights. But, is this new show going a bit too far with adult jokes and going overboard with an exaggerated "Office" style? I have mixed feelings.
This new show starts after Ms. Piggy and Kermit's drawn out romance ends during the filming of Piggy's new talk show. This is just the beginning of the more indepth view of the Muppet's relationships and their not-so light hearted side. Feuds burn between characters, making the show seem more like a drama than a comedy. It's obvious that the new target audience is older fans. Growing up watching the movies, and other Jim Henson Classics like Fraggle Rock, I feel like this is just taking things a bit too far.
If you're able to brush all the slightly distasteful jokes aside, there is some good in seeing The Muppets in this light. Piggy and Kermit still seem to have feelings for eachother. If you've watched any past Muppets shows are specials, it's no secret that they've always had a complicated relationship. Kermit persists that he has moved on to another new pig and Ms. Piggy seems like a reborn independent woman who needs no frog. Of course, this is not without a few innuendos mixed in there.
Even with Piggy and Kermit tragically broken up and ruining many childhoods in the process, including mine, romance is still in the air. It becomes evident that before the show Fozzie had been seeing a girl for quite awhile who is not a muppet but a human.  In the first episode he even goes to meet her parents which results in a few comments about him being a "bear". Gasp! This causes Fozzie to seek the approval of her parents by taking them onto the set of Piggy's show, where he is shoved aside by her. I never saw Piggy show this much hatred towards him and it was a bit over the top like the rest of the show which, unfortunately, didn't surprise me.
Old friends continued to show up besides the classic ones such as Walter, Kermit's assistant, and Statler and Waldorf, the two humorous old men. The Swedish Chef made a brief appearance with his chickens, and even Beaker has let out a few "meeps" and yelps.
Despite the adult humor, I still think there is a little bit for everyone in this new primetime show. I definitely recommend watching it, and younger audiences will still enjoy the crazy creatures without understanding all the jokes.
"The old Muppets was good for keeping kids quiet and entertained; it was my favorite babysitter hack. With the new show, they still enjoy it. I enjoy it as much too. I'm just keeping my eyes peeled for some more Rolph, my favorite, and his boss piano skills." said Emily Cohan, sophomore and Muppets enthusiast.
Old fans will appreciate the appearances from classic and lovable characters. This is a show for people who grew up watching the playful puppets and want something a bit more fresh and a new kind of comedy.
There is nothing in this show that would keep me from tuning in the next week because I even found some of the jokes funny, laugh out loud funny. I just really hope they don't keep up with the same pace of jokes because they dropped without the same charm as Fozzie's, and minus the signature "waka waka" afterwards.
About the Writer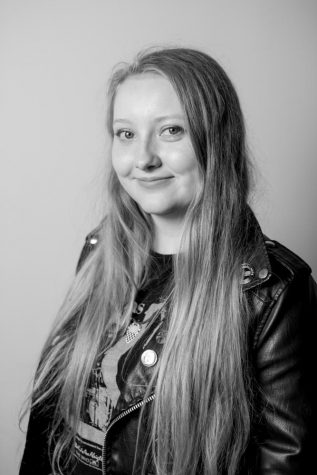 Katelin Aanerud, Editor in Chief
Kate is a senior and this is her fourth year on Northstar News. She is this year's Editor in Chief, and Feature Editor. She is involved in Viking Strings...