Rock Legends Live On: Hollywood Vampires New Album

An old group of buddies has now turned into a full band, including such stars as Alice Cooper, Sir James Paul McCartney and Johnny Depp, as a tribute to their "dead drunk friends". Their new self-titled album was released on Sept. 11 online, and is also available on CD at any music retailers. The vinyl version is set to be dropped in early October.
Cooper brought the group together after touring in small pubs with actor and guitarist Johnny Depp and realizing how much fun it had been like with his old group of drinking buddies. Cooper paired with Depp added Joe Perry, Dave Grohl, and McCartney to form this tribute to his fellow fallen stars.
The album opens with a short story featuring the late Christopher Lee as the storyteller as he speaks about The Last Vampire. One of the few songs on the album that isn't a cover is Depp's song Raise The Dead and an upbeat and rocking song to start the actual album with. The title sticks out to be a reference to the album's theme of departed rock stars and their tributes to them.
The first cover on the album is The Who's My Generation as a tribute to original member Keith Moon. The song is a lot more hard rock than anything The Who did, but displays the psychical energy of Moon.. It continues into a rendition of Whole Lotta Love, originally a Led Zeppelin song, as a reminder of another passed from drug abuse, John Bonham. Bonham's tribute stands out from the rest as it makes the song seem less intense than the Zeppelin classic, but the drums stick out as Bonham would have played them.
I Got A Line On You is break from tributes but still a cover of the Spirit's US single. Hollywood Vampires definitely takes the beat up a notch with Grohl on drums. Poet-singer Jim Morrison is remember through a mashup of The Door's Five To One and Break On Through (To The Other Side), one a lesser known song and the other a staple of the band's fame. Door's original guitarist Robby Krieger makes a booming appearance on this song with the riffs being more clear in this cover.
Opening with Cooper's classic sneer, Three Dogs Night's One is paired with Harry Nilsson's Jump Into The Fire. Beatles singer Paul McCartney makes a brief appearance in singing one of his own songs with a Copper twist. Come and Get It shows McCartney's flexibility with the addition of harder guitars and deeper vocals
The next tribute goes out to Marc Bolan, known for his contribution to rock and roll through the legendary band T. Rex, with his song Jeepster. The band gives the song a harder edge with deeper vocals which strays from the almost whisper in Bolan's original version. Though his death didn't have a connection to drugs or alcohol, John Lennon is honored with his solo song Cold Turkey. Known for more of his work with The Beatles, I think they should have used something more from that era, or one of this more known songs like Imagine or Working Class Hero. It is still a song that stands out as different but in a good way. Copper is able to recreate the raspy voice that Lennon sang in in his later years perfectly.
The album continued with a few more songs including Manic Depression as a shout out to legendary guitarist Jimi Hendrix, and a pumped version of psychedelic rock band Small Faces' Itchycoo Park.  Copper takes the chance to incorporate his own music with a mix of his School's Out and Pink Floyd's Another Brick In The Wall Part 2, as a brief mention to Pink Floyd's original lead singer Syd Barrett. The album comes to a close with a tribute to all of the previously mention artist with their last original song on the album My Dead Drunk Friends. Copper starts the song with a toast to rock and roll and then goes into depth about the pros and cons of being a rock star.
With all of these reappearing rock stars, the Hollywood Vampires' new album is a must listen for any fan of the classic rock genre. It's now available on iTunes and Spotify.
About the Writer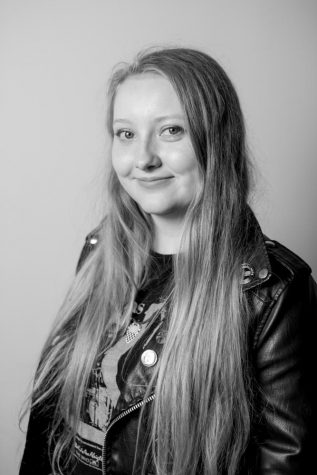 Katelin Aanerud, Editor in Chief
Kate is a senior and this is her fourth year on Northstar News. She is this year's Editor in Chief, and Feature Editor. She is involved in Viking Strings...