North girls basketball falls in regional final, but celebrates best season in years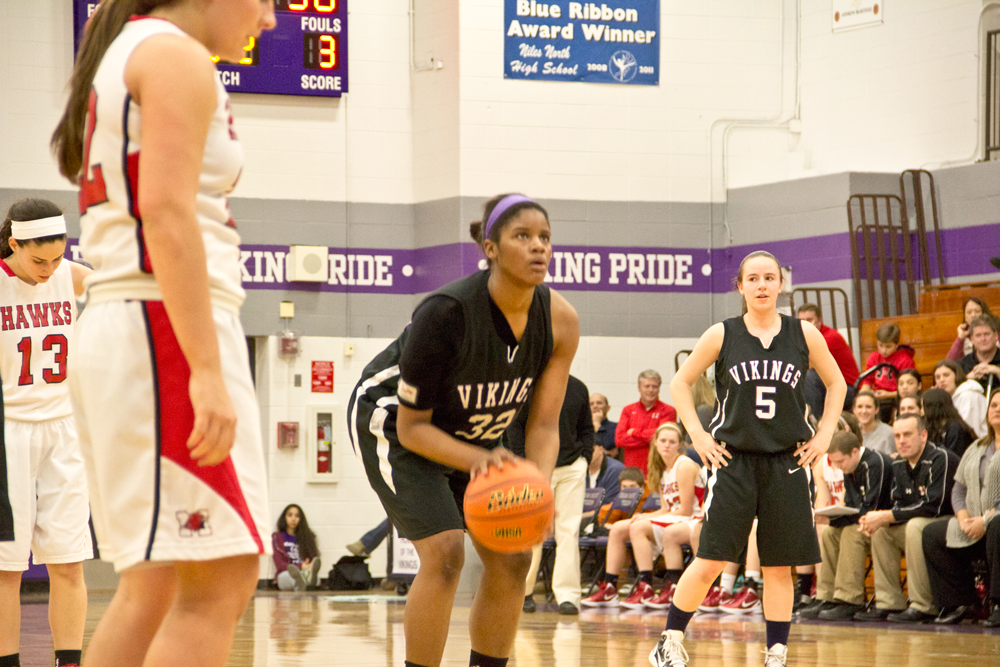 The Lady Vikings girls basketball team ended their season with their most successful record since 2004: 17-13 overall, and an 8-2, runner-up conference finish.
The Vikings dropped their first conference game of the season 47-46 to the Deerfield Warriors on a free-throw at the end of regulation. However, the Vikings quickly learned from the loss, one plagued with unnecessary fouls and unforced turnovers, and bounced back to win their next seven conference contests. Notables included a 3-point overtime victory at Glenbrook North, and comfortable home victories against Maine West and Highland Park, the latter being a team the Vikes hadn't beaten in more than five years.
Spurring the run were all-conference selections Mariyah Henley and Alissa Hirsh, averaging 18.7 and 15.9 points per game, respectively, with Hirsh adding five assists per game and Henley adding nine rebounds. However, it was the tenacious defense of senior Angela Jones, her freshman sister Kienya Jones, and junior Shelley-Rae Moody that was consistently able to shut-down high-powered offenses and fuel the Vikings' transition game. Senior center and co-captain Sorriyah Ranger provided strong leadership and a consistent floor game, cleaning up the boards, blocking shots and setting effective screens to free up shooters.
This run-and-gun style of play led the Vikings to a 3-2 record at the Warren Holiday Classic, beating Palatine, Wheeling and area-ranked Warren, before falling to Grayslake Central in the championship game. Henley and Hirsh both received all-tournament honors. The tournament was also home to immense improvement from Moody and K. Jones, with Moody gaining confidence in her jump-shot and attacking the rim, and Jones grabbing tough offensive and defensive boards.
But while the Vikings experienced a considerably higher level of success than in previous years, at times they remained unable to get over the hump against state-ranked teams. The Vikings suffered a 6-point loss against no. 25 Proviso East, a three point loss against no. 24 Glenbrook South, a 3-point over-time loss to no. 16 Loyola, and a seven point loss to no. 15 Niles West.
In the conference championship game between the 7-1 Vikings and 7-1 Maine West Warriors, the Vikings dropped another tight, overtime contest in the Warriors' gym. Henley led the Vikings with 22 points and 13 rebounds while Moody added 8 points and 2 steals. Hirsh was held to three points on 1-10 shooting in the loss.
However, the Vikings were able to avenge this loss in the regional semi-finals in the seven versus nine seed match-up on their home court. After a slow start, the Vikings clung to a slim 16-13 lead at the half. But the home team upped the pace after intermission, creating turnovers and easy transition baskets, and exploded to a 57-40 victory. Henley led the Vikings with 25 points and 13 rebounds, while Hirsh added 20 points and 10 assists.
In the regional final the Vikings faced top seeded Maine South, whose sharpshooting and 6'3″  DePaul-bound center ultimately proved too much to handle. After the Vikings played a decent first half trailing 28-18, the Hawks broke the game open in the second, ending the Viking's season with a 64-44 victory. Henley turned in arguably one of the best performances of her career, pouring in 32 points and grabbing 10 rebounds against consistent double teams. Hirsh added 9 points and 4 assists. Both senior co-captains eclipsed the 1,000- point mark earlier in the season, a rare feat in Niles North girls basketball history. Other seniors playing their last game in the Niles North main gym included Angela Jones, Lizette Rivera and Sorriyah Ranger.