NN basketball compete in tournaments
To burn off the Thanksgiving calories, girls and boys varsity basketball will be competing in Thanksgiving tournaments. 
The girls varsity basketball team is 3-0 and will also take place in a Thanksgiving tournament at IC Catholic Prep and their first game was on Thursday, November 21 vs Evergreen Park. 
They play tonight at 5:30 vs Joliet Catholic so go out and support!
The varsity girls basketball team won first place in this same tournament last year and are eager to win again this year. "Going into the Thanksgiving tournament I feel confident. Our team is melding well and we all trust each other. Coming off a win in our first game of the season I believe we have the potential to do very well again and even take home first," junior Elizabeth Johnson said. 
The girls won their first game in the tournament and hope to win all of the others. " thought the 1st game in tournament we started aggressively and maybe caught Evergreen Park by surprise? We were able to turn them over and build a lead after one quarter. I think we need to learn how important each offensive possession is and do a better job of getting a great shot as opposed to quick and contested shots. But, we had a nice 4th quarter and forced several turnovers to finish the game with a win. Looking forward to next 3 games.  We are pretty young this year, so I expect some growing pains and mistakes, but as long as we bring energy and effort, I think we have a chance!" head varsity coach Dan Paxson said.
The boys Varsity basketball team will be opening up their 2019-20 season by competing in the DePaul Prep Tournament during the Thanksgiving weekend. They won their first game in the tournament against CVSA on November 25 and are currently 1-0. They also play tonight against Urban Prep at Depaul Prep at 7:00. 
Make sure to go watch some varsity basketball to start off the Thanksgiving break!
Leave a Comment
About the Contributor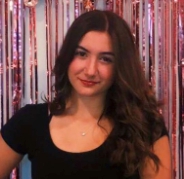 Hannah Freireich, Sports Editor
Hannah is a senior in high school. She enjoys watching and competing in sports. She is on the varsity tennis and on the basketball team. She also likes...