Coach Olson leads boys basketball to success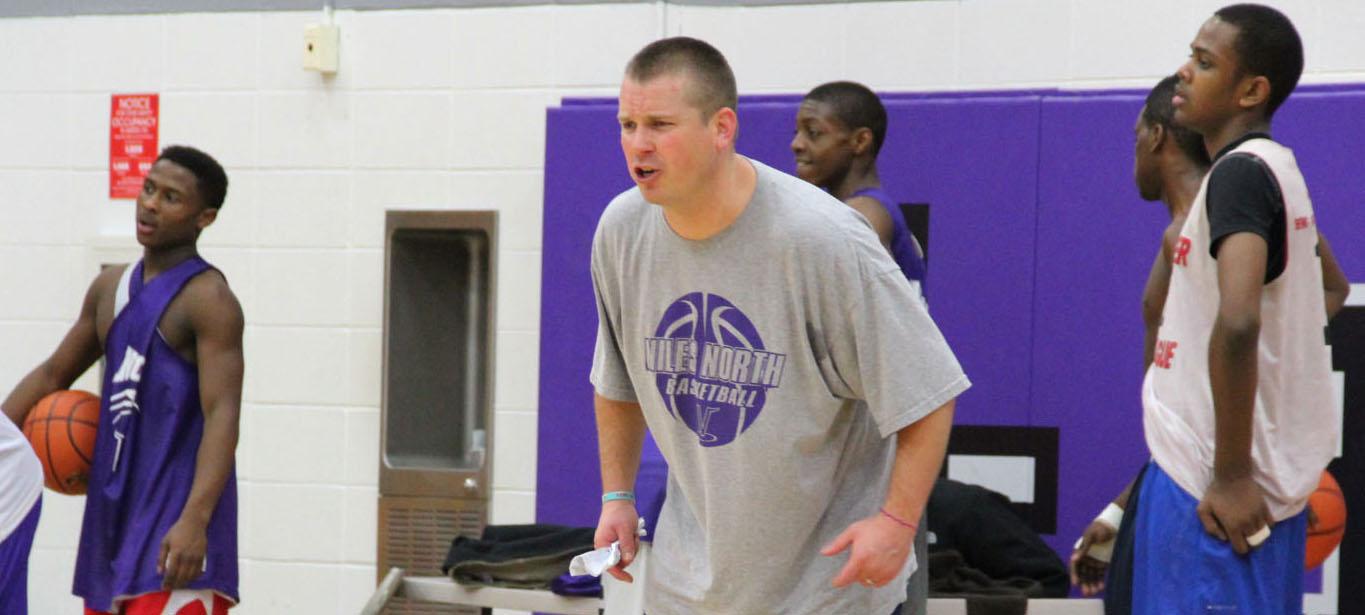 Flash back to 2009. The Niles North boy's basketball team was finishing yet another season unable to break the 3-win barrier, seeming to solidify their role as perennial CSL North conference cellar-dwellers. Now, three years and a sectional championship later, Coach Glenn Olson is only beginning to breathe life back into a program that seemed beyond salvation.
Coming off a season that included winning the CSL North conference championship against Deerfield via Andre Shaw's buzzer beater, beating Glenbrook North for the first time in over 50 years to win the regional championship, and coming from behind to beat Shaumburg to win the sectional title, there wasn't much else Coach Olson and his squad could have accomplished. Outside of beating Warren in the super-sectional to earn a trip down state, of course.
"If we grew a few inches that definitely would have helped," Olson replied, when asked what would have needed to happen to get that win. "They had a college line-up, as far as their size and the amount of D1 players they have."
But the Vikings stellar defense from smaller guards like then-seniors Sam Sharples, Montreal Sykes, Cassius Bell and John King kept the game within reach.
"The cool thing about the Warren game is that we shot horribly, and we still had a chance to win," Olson said. "We were down by 4 with 3 minutes to go. Abdel Nader took a lot of shots. If he has a great night, I think we win that game."
But it was the current Northern Illinois star who led the Vikings game in and game out, amassing an impressive set of consecutive wins against Deerfield, Evanston, Lake Park, GBN, Notre Dame, and Shaumburg before eventually falling to Warren in the super-sectional. But losing Nader, as well as graduates Sharples, Sykes, King, Shaw, Bell and Earl Washington, has not had the detrimental impact many predicted it would.
"If anybody did expect a drop in the level of play, they can't anymore," Olson said.
The Vikings are 18-8 overall and finished 7-3 in the CSL North (2nd place), with runner-up finishes in both their Thanksgiving and Christmas tournaments. Recent victories have included lop-sided romps over Mather, Leyden, and Maine East, as well as a buzzer beater to trump Glenbrook North. Junior point guard Malachi Nix led the Vikings with 18 points against GBN, but ironically it was his air-ball at the last second that junior center Billy Voitik was able to tip in for the win. However, the Viking's continued success is in large part thanks to role-filling from seniors Jaylen White, Ali Rafiq, and Eron Washington, players who saw virtually no minutes last season.
"But make no mistake, it's not that there just isn't anyone else and these guys had to step in—it's that they're tremendously better. Last year they could have had the attitude 'Oh I'm not getting any minutes so I'm not gonna work,' but they did. They competed against better players every day and got better," Olson said.
The Vikings have also received support from newcomers Billy Voitik and B.J Beckford, with Voitik stepping up defensively, and Beckford consistently scoring double digits. However, all-conference selections Nix and senior Mychael Henley have embraced their role as the only two returning starters, going above and beyond their duty to lead their team. Nix's jaw-dropping ability to get to the basket as well as noticeably improved jump shooting have turned heads across the conference and Chicago-land area.
"But people aren't looking at us and talking about one kid or a couple of kids—they're talking the way we defend. Teams are starting to gauge how good they are by how they're able to do against us," Olson said.
So is the Niles North boys basketball program destined to become a traditional powerhouse like Notre Dame or Evanston?
"I can't tell you about that. I can tell you about Deerfield tonight, or our JV game Saturday, but that's it. We don't look down the road at opponents and I certainly can't do the same thing regarding our program," Olson said.
As far as the here-and-now goes, things are looking good for the Vikings. Their regular season success has come despite on-and-off injuries to both Henley and Nix, and completely without junior transfer from Evanston Lorenzo Dillard, who sports a lofty state-player ranking of 17. In his season debut Feb. 10 against Maine East, Dillard lived up to the hype scoring a game-high 18 points in a 82-36 Viking victory.
The fact that Olson has been able to attract this type of talent previously unheard of for the boys program has been instrumental in their success.
"The first thing is, is I like my kids," Olson said. "I actually do. I like the kids that get in trouble with the deans, I like the kids that don't get in trouble with deans. I see the value in everybody. They know that I believe in them and that I care about them as people, not just basketball players, and that's why I know they'll be willing to work hard for me."
The Vikings received a 7 seed in the Glenbrook South sectional, and will open against 10 seeded Loyola on Wednesday Feb. 29 at Niles North. The regional championship will take place on Friday Mar. 2, featuring the winner of Niles North vs. Loyola against the winner of 2 seed Glenbrook North and either 16 seed Lincoln Park or 18 seed Shurz.