166 reasons why you should not be upset over Queen Elizabeth II's death
To people in the West, Queen Elizabeth II is viewed as a hero. Longest reigning monarch, donates to charity, a symbol of British prosperity and a cultural icon – what is not to love? 
I'll tell you what isn't to love: how does $28 billion of looted wealth sound? To me, and over half of the world, she sounds like a colonizer who had a little too much fun colonizing and lording over said colonies. 
Last Thursday on September 8, at exactly 18:30 BST, Elizabeth II took her final breath. The beloved monarch died peacefully at Balmoral, according to a Tweet from the Royal Family, surrounded by close family. On Friday, September 16, 2022, a funeral was held for the queen, with millions both attending and watching the event. 
When a monarch dies in the United Kingdom, according to the Washington Post, the nation enters a period of mourning. Known as D-Day, the son of the queen (in this case, Charles III), becomes king, and broadcasters are supposed to wear black to represent the somberness of the event. From D-Day, the next few days are known as D-Day+1, D-Day+2, and so on. An "Accession Council" is met to officially declare the death, and then the body is transferred to Westminster Hall to rest until the funeral. 
Although many are mourning at Her Majesty's loss, many are rejoicing. According to Newsweek, when news of the queen's death broke, Twitter took to storm with jokes and memes about the queen. The Irish were Irish dancing to "Another One Bites the Dust", Indians and Nigerians were quick to point out the millions of people who died by the hands of the British, and Aboriginal Australians were also rejoicing and reflecting on their history with the British. But what warrants such a celebration?
It comes to no surprise that England is the world's biggest colonizer, with only 22 modern-day countries left untouched by a British invasion. 
"
Although the Queen is accredited with aiding the decolonization movement, what people fail to acknowledge is that the Queen did not grant these countries their freedom. "
It is alarming to know that roughly every 7 days in a calendar year, some nation in the world celebrates its independence from the British. According to CNBC, 15 countries still have the Queen on their currency. According to NPR, more than 20 nations have won their independence between February 6, 1952, and September 8, 2022.
Although the Queen is accredited with aiding the decolonization movement, what people fail to acknowledge is that the Queen did not grant these countries their freedom. In reality, many countries, such as India and Nigeria, had to fight for their independence, and when they would rise up against their unfair treatment, the Queen ordered for military massacres against peaceful protesters.
What should we expect from someone who went on a world tour defending the Commonwealth's colonialist practices? Not only would the Queen rob civilians of their rights, she would also rob their riches as well. In total, the U.K has 73,000 African artifacts stolen, with many of  them put on display in the British Museum. What has also been plunged from colonized nations are various minerals as well. Queen Elizabeth can be seen sitting on a throne made out of "Blood Diamonds" and also wearing a crown with jewels stolen from British colonies too. 
That same bigoted behavior overseas also applies back in the mainland. According to the Guardian, Queen Elizabeth only allowed minorities to work for her starting in the 1990s, and even then, journalist Andrew Morton for the Sunday Times reported in 1990 that "a black face has never graced the executive echelons of royal service – the household and officials" and "even among clerical and domestic staff, there is only a handful of recruits from ethnic minorities". Buckingham Palace even admitted that they were not following their own diversity guidelines. 
This opinion piece has to end at some point, but to prove my point, here is a list of the following countries that have gotten robbed people of their rights and riches: Afghanistan, Anguilla, Antigua and Barbuda, Australia, The Bahamas, Bahrain, Barbados, Belize, Bermuda, Botswana, British Virgin Islands, Brunei, Canada, Cayman Islands, Cyprus, Dominica, Egypt, Falkland Islands, Fiji, Gibraltar, Ghana, Grenada, India, Iraq, Ireland, Jamaica, Jordan, Kenya, Kiribati, Kuwait, Lesotho, Malawi, Malaysia, Maldives, Malta, Mauritius, Myanmar, Nauru, New Zealand, Nigeria, Pakistan, Qatar, St. Lucia, Saint Kitts and Nevis, St. Vincent and the Grenades, Seychelles, Sierra Leone, Solomon Islands, South Africa, Sri Lanka, Sudan, Swaziland, Tanzania, Tonga, Trinidad and Tobago, Tuvalu, Uganda, United Arab Emirates, The United States, Vanuatu, Yemen, Zambia, and Zimbabwe. 
Regardless of where you stand, everybody is entitled to their own feelings, and I can acknowledge that my opinion is not as popular. However, it is important to be respectful of the millions of people who have either personally suffered or are still suffering at the hands of a bloodthirsty monarchy.
Leave a Comment
About the Contributor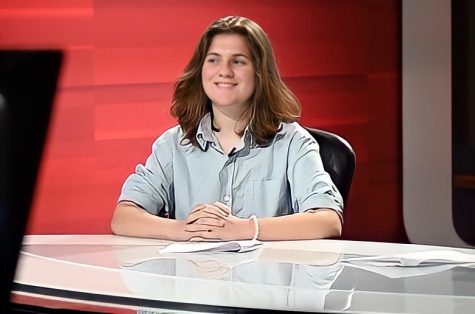 Olivia Frey, Editor-in-Chief
Olivia (Liv) Frey is the Editor-in-Chief and Opinion Editor of North Star News. Ever since joining NSN her freshman year, she has grown a deeper love...