Carrie Soto is Back, but is she better than ever?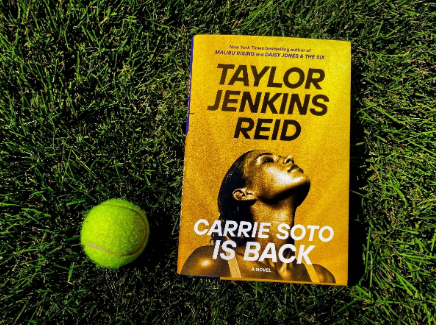 In the newest Taylor Jenkins Reid novel, Carrie Soto is not here to be liked. Carrie Soto is Back, the latest installment of Reid's proclaimed "Mick Riva Universe" series, tells the story of the fictional tennis champion Carrie Soto. Carrie Soto is Back is another example of Reid's vivid writing and talent, yet it falls just short of her other titles because of its comparative lack of emotion. There has also been controversy surrounding the ethics of Reid's ability to write characters of color as a white woman. 
Carrie Soto is the best women's tennis player of all time. Trained by her father, a once professional Argentinian tennis player, Soto goes on to hold the record of the most slams won ever and is crowned the greatest tennis player of all time. After a traumatic knee injury, she is forced to retire. Seven years later, current tennis star and Soto's rumored rival, Nicki Chan is about to beat her record. Soto decides it's time to make a comeback for the four major slams. Her return to tennis is highly doubted by tennis fans and critics, yet Carrie Soto is back, and she is not ready to quit. 
Reid's ability to write such layered and complex characters continues to stun. Other authors would make Carrie Soto this gracious tennis player with this inspiring character development arc, but that's not relatable. Real people are flawed and have intrusive thoughts and are really not that nice. Reid wrote Soto as a cold-blooded "Battle Axe". She is not nice to her opponents and she gets angry when she doesn't win. And that never changes throughout the book because that's just who Carrie Soto is. Of course, there are more layers to Carrie than that, but it's no secret that she's mean.
"
Reid wrote Soto as a cold-blooded "Battle Axe". She is not nice to her opponents and she gets angry when she doesn't win. And that never changes throughout the book because that's just who Carrie Soto is."
Another interesting aspect of writing such a strong female protagonist is how Carrie's experiences relate to the real world. In the tennis world, players like John McEnroe and Novak Djokovic have been said to be the most talented and determined to ever play the game. Praised for their skills and drive, they go far, despite their infamous overreactions. By being a "Battle Axe", Carrie Soto is ruthless, brutal, vicious, mean, and definitely not gracious. McEnroe and Djokovic are seen as tennis gods with "occasional" poor attitudes, while Soto is simply known as "The Bitch" who wins sometimes by luck. The double standards that Carrie is put up against are so relevant to today's views on misogyny, as well as intersectional feminism, as Carrie is a Latina woman. While Carrie Soto is a fictional character, the double standards between female and male athletes are very much real. Novak Djokovic was praised earlier this year for dropping out of the US Open because of his vaccination status. Meanwhile, female tennis star Naomi Osaka was accused of "Diva behavior" for dropping out of the French Open last year due to mental health reasons. 
Although Carrie Soto is Back is a great read, it just doesn't have the same magic that Reid's other "Mick Riva Universe" novels have. Daisy Jones and the Six had heartbreaking themes in a captivating interview structure. Seven Husbands of Evelyn Hugo had many secrets that kept readers reading. But Carrie Soto is Back just lacked the same kind of heartache that Reid depicted in her other novels. It didn't feel like there were any secrets or anything really shocking. There was also a lot of tennis talk. Obviously, a book about a tennis player playing slams is going to have tennis matches, but there are too many descriptions of tennis games that eventually all blur together. Each individual match seemed so repetitive and vague, so for hardcore fans of tennis, this one might not be for you. However, Carrie Soto's character is very interesting and could potentially ignite some competitiveness. 
There has been some online discourse about Reid's character writing. It has been pointed out by many that Reid tends to write many of her characters as POC (Carrie Soto is Argentinian, Nicki Chan is Chinese, Evelyn Hugo is Cuban, etc.), while Reid herself is a white woman. Reid often writes about the struggles of POC women in her book, but is she qualified to from her privileged perspective? Meanwhile, most currently published authors are white and authors of color are still not getting nearly as many deals by big publishers. So why does Reid get to write about "experiences" of POC, while actual authors of color can barely get their own stories published? 
Overall, Carrie Soto is Back was a really interesting take on competition and how we view double standards in the sports industry, but it just didn't have the same magic as her previous books. Reid's writing style remains exceptional and her character arcs complex as ever. This being said, there is definitely room for more conversation about amplifying authors of colors' voices in the publishing industry. Fans of Reid's other books will love Carrie Soto is Back as well as anyone who wants to own a more competitive mindset. 
View Comments (2)
About the Contributor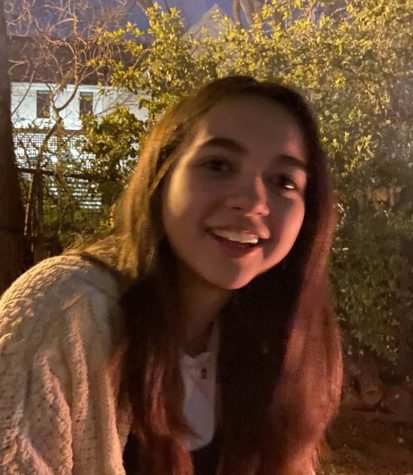 Penelope Roewe, Public Relations
Penelope is a sophomore at Niles North and this is her second year on North Star News. She is the features editor as well as the social media coordinator....