Niles North is glad to welcome new Assistant Athletic Director
In the fall, Niles North hired a new assistant Athletic Director Danae Russell. She has made a huge impact towards Niles North and is highly appreciated here. 
Ms. Russell previously worked as an Athletic Director at Kenwood Academy for 5 years before taking the job at Niles North. "The schools are pretty similar in size, but different demographically. I was fortunate to be able to start the new position over the summer, which allowed me to learn the building and some of the coaching/teaching staff before school began. I feel comfortable with my role at Niles North so far. Starting any new position comes with challenges like learning names and getting adjusted to a new way of doing things, but I'm surviving!" 
She enjoys her new position at Niles North and is excited to see our athletes perform. "I've always enjoyed working in athletics because there is no true routine. Each day has its own challenges, good or bad. It's definitely an exciting job where there is never a dull moment. We are now starting the Winter season, where everything is indoors and there is some sort of game/meet/event daily.  I'm a competitor and I love watching our athletes work hard to beat our opponents. I believe the Vikings will be making some noise in the CSL (Central Suburban League) this year!" 
Some things you should know about Ms. Russell is that she played college basketball at UW-Milwaukee on scholarship and was able to see/experience so much through athletics. 
Some words of advice our new assistant director gives to our students is, "I would also like to encourage everybody to use their talents (whether they are within athletics, the arts, overall leadership, etc.) to chase your desired outcome in life. Hard work is necessary and nothing will be given to you, but I promise that you'll have very little regrets!" 
If you haven't already had a chance to say hi and meet our new athletic director, make sure to go and introduce yourself at a sporting event or even say hi in the hallways!  
About the Writer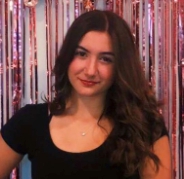 Hannah Freireich, Reporter
Hannah is 17 years old and a junior in high school. She enjoys watching and competing in sports. She is on the varsity tennis and on the basketball team....