Taking a stand for the "Electric Warrior" and a group of melancholy men
Hang on for a minute...we're trying to find some more stories you might like.
On April 7, the Rock and Roll Hall Of Fame welcomed a group of artist to gain a spot amongst their peers. Electric Light Orchestra, Joan Baez, Pearl Jam, and others were inducted, and now that this year's winners are shining above the rest, it's time to think about the nominees for the fall.
The Rock and Roll Hall of Fame has been inducting the largest names in the rock industry at a rate of five to twelve names a year, the group being a mixture of solo artists and groups, since 1986. Those amongst the class of rock stars includes The Beatles, The Jimi Hendrix Experience, Metallica, and Prince.
But as the list of major artists dwindle, we must think about those who have been shadowed by the big names. The Pretty Things were once up there with the likes of Pink Floyd, and coined the term "rock opera" with their 1968 album S.F. Sorrow, yet they haven't been nominated. Although David Bowie and Iggy Pop have claimed their spots, they are certainly lacking in the "glam" rock area. T. Rex and The New York Dolls could easily represent the more underground genre of the 70s. And still some of the biggest names in rock aren't in, like The Moody Blues, Jethro Tull, and The Cars.
The Moody Blues have been eligible for the last 26 years, and the psychedelic pioneers are begging for their spot. With their 16 studio albums and a career lasting for over fifty years, fans are questioning their exclusion. Over the years they have come out with chart topping albums like Days of Future Past and In Search of The Lost Chord, and have had hits with "Nights In White Satin", "Your Wildest Dreams", and "Tuesday Afternoon." If they are to be nominated the full lineup should be included, as the diversity of the band through the years has depended on the current members.
The Greek Tragedy of Marc Bolan's life seems to shadow the incredible amount of music he put out in such a short span of time with T. Rex. His dedication to music and showmanship is clear in his seven studio albums released in just as many years, along with his knack for picking out the next big artist. Bolan featured a young Billy Idol with Generation X and The Boomtown Rats on his short lived television show, which properly ended following his death. If it weren't for him, songs like "Dancing With Myself", and "I Don't Like Mondays" would have never been discovered, let alone his own classics like "Children of The Revolution" and "Bang a Gong." Along with Bolan, Mickey Finn, Steve Took, Steve Currie, and Gloria Jones should be inducted under T. Rex.
Another range of artists that the hall seems to leave out is those once seen as "teen idols." Both The Monkees and Peter Frampton have been left out, most likely due to their fan bases. They were the One Direction and Justin Bieber of the 70s, with The Monkees starting from a television show, and Frampton being known by his good looks. It's hard to deny both groups' influence though. The Monkees' Mike Nesmith was a pioneer of country rock, and the group's hits like "Daydream Believer" and "Last Train To Clarksville" have become staples of the 1960's. Frampton's career started in the supergroup Humble Pie, also excluded, with Steve Marriott of The Small Faces, and continued into his solo career where he released one of best selling live album of all time Frampton Comes Alive!, which has gone platinum eight times since its 1967 release.
Also included in this years ballot should be The Runaways, Soft Machine, Procol Harum, Mott The Hoople, and The Zombies. In future years, Roxy Music, Brian Eno, Jethro Tull, King Crimson, and Humble Pie should gain their positions.
It's not only those who have been completely dismissed that deserve a spot, but those who have been wrongly excluded. The exact rules have never been clear on who gets to have their names put in with certain bands. Currently, only four members of KISS are in, excluding six members that have played on their studio albums.
During their 2014 induction, Tom Morello took time to mention the excluded members but nothing ever happened to get them in with the original four. "Eric Carr, Vinnie Vincent, Mark St. John, Bruce Kulick, Eric Singer and Tommy Thayer have all been important in extending and expanding KISS' impressive legacy and they deserve a round of applause."
Ian Gillan wasn't included in the Black Sabbath lineup, and neither was Jon Brant when Cheap Trick got inducted in 2015. Other controversies include the induction of Jeff Beck as a solo artist, although the majority of his albums have been with the Jeff Beck Group, The Mothers Of Invention not being included with Frank Zappa's induction, and Crosby, Stills, and Nash excluding Neil Young.
It has become increasingly popular for them to give honors to those who helped the band on their way to fame, as they did with Clive Davis, George Martin, Brian Epstein, and Phil Spector. I'd like to see the "non-performers" category expanded with names like Bob Ezrin, who worked with artists such as Pink Floyd, Lou Reed, and Deep Purple, along with Tony Visconti, who lead Morrissey, Bolan, and Bowie to their ultimate fame.
Fans have high hopes for this year as the hall seems to be finally leaning towards acceptance of these members. Once and awhile the Rock And Roll Hall Of Fame does pay homage to past members of bands. Alice Cooper was appropriately inducted as the entire lineup from the first seven studio albums, as was Pink Floyd when founder Roger "Syd" Barrett was included, despite his appearance on only two albums. Brian Jones was also added to the current lineup of The Rolling Stones. These examples only make fans question the induction process even more.
About the Writer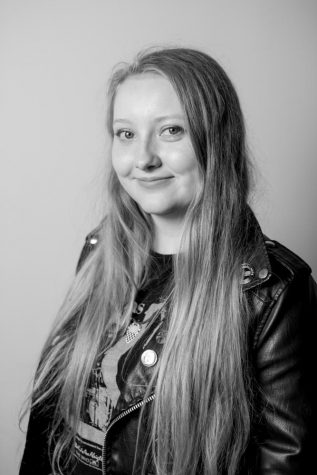 Katelin Aanerud, Editor in Chief
Kate is a senior and this is her fourth year on Northstar News. She is this year's Editor in Chief, and Feature Editor. She is involved in Viking Strings...