Hello, world. I'm your wild girl!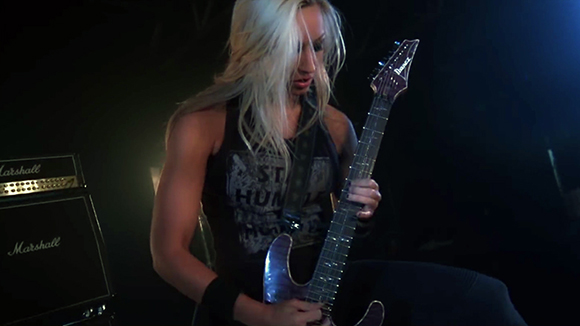 For years men have held the position at the top of the charts in the rock genre. Bands like Led Zeppelin, Black Sabbath, and Deep Purple have rocked their way to fame, but what about the ladies? Even when they did show their faces, like Janis Joplin and Joan Jett, many of them weren't taken seriously. But, the ladies are finally hitting all the right notes and the spotlight in a compilation titled She Rocks, Vol. 1. The album released on Jan 20 features artists like Kat Dyson, Lita Ford, and Steph Paynes. And, these ladies sure can wail.
She Rock, Vol. 1 debuted at the annual She Rocks Awards, a ceremony acknowledging the best female rock stars, and the people that inspired them, which is an event hosted by the Women's International Music Network(WIMN). The formation of this album was one of the many things that the WIMN have done to get women more respect and acknowledgment in the music industry.
"There was Jennifer Batten and there was Michelle Meldrum, and that was basically it," Nita Strauss, guitarist, said. "There were great players and great songwriters, but I'm talking about really proficiently good players, technically great players. I think it's good that they're calling this Volume 1, because I think there's a lot more names that need to be showcased and recognized in this scene."
The first track on the album is titled "Transmogrify", and is performed by Orianthi. Orianthi is most known for her work with the Michael Jackson, and Alice Cooper. She also recently worked with The Hollywood Vampires on their debut album, before moving onto her solo career. Overall, the song is a great one to start off with. She takes more of a pure rock 'n roll approach to her track. It really highlights her playing more than anything else, and I think that's what she was striving for. It bring the album in a softer note before it kicks off with "Cosmic Stars" by Yasi Hofer.
From her beginnings as a musical prodigy to now, Hofer has certainly made her impact on the rock world, even performing with legend Steve Vai. Clocking in around eight minutes, this song is the longest on the album. It's nothing short of amazing, though. The song's length only enhances Hofer's abilities and doesn't seem to drag on. Although the guitar is surrounded by more instruments than the previous track, it still stands out in it's own way.
Things slow down with Dyson's more soulful track "U Know What I Like", which is one of the few tracks to include vocals on the album. Dyson is recognized for joining Prince in The New Power Generation, and performing with artists like Cyndi Lauper. Although I'm not the biggest soul and jazz fan, I found myself really enjoying this song. Her vocals really stand out at certain parts, while she still give time to the guitar playing; the balance is perfect.
Probably my least favorite track on the album is Sarah Longfield's techno song "The Taxi Travel Task Force." The transition between Dyson's track and Longfield's sounds awkward, but it does soften up as the song goes on. The ending guitar part almost reminded me of a Frank Zappa song, but the additions of other sounds is too overpowering to really enjoy her guitar playing.
The following track is perhaps my favorite on the entire album and I think it does a great job of displaying the power of females in rock 'n roll. Ford, Runaways guitarist, teams up with Lez Zeppelin, an all female Zeppelin cover band, to perform one of the band's hardest tracks "The Lemon Song." Not only is the guitar part on par with legend Jimmy Page but the vocals are just as good as Robert Plant. These ladies were able to take the power elements of Led Zeppelin and make them ever more powerful. I think this was an important track on the album since it showed that these ladies can be just as good, if not better, than some of the legends in the business.
As far as original songs on the album, Strauss' "Pandemonium" is by far my favorite. Known for her work with Iron Maiden cover band Iron Maidens, and being Cooper's main guitarist on current tours, she has been widely recognized as one of the best female guitarists of our era. The track is definitely one of the more hard-rock pieces on the album but surprisingly the heavy beat doesn't distract from the amazing guitar work.
"So first of all, even to get asked to be on this album was a dream come true, and then to get to do it in this way, to showcase this awesome up and coming crop of female guitar players that are out there, it's mind-blowing to me," Strauss' added.
Overall, this album is a great spotlight on the girls in the industry, and I look forward to another album like this. It's also a great way for listeners to discover new artists.
The full album can be found on Spotify and Itunes.
Photo Credit: Pandamonium Music Video
About the Writer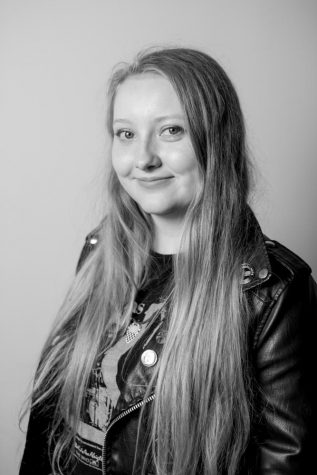 Katelin Aanerud, Editor in Chief
Kate is a senior and this is her fourth year on Northstar News. She is this year's Editor in Chief, and Feature Editor. She is involved in Viking Strings...