Fluffs strut their stuff and conquer Puppy Bowl XIII
Hang on for a minute...we're trying to find some more stories you might like.
While some families sit down together to watch the annual Super Bowl, animal lovers tend to check out of the sports antics to watch the adorable Puppy Bowl. On Feb 5, Animal Planet hosted the 13th Puppy Bowl. The two-hour program was filled with pups of all shapes and sizes fighting for the title of champ, and this year team Fluff smashed team Ruff after a two-year losing streak with a final score of 93-38.
As the first quarter's players filed in we had Rory, Buttons, Parfait, Dawson, and Chicago's own Slippers representing team Fluff. Team Ruff's Puddles, Winter, Squirt, and Smooshie are truly a force to be reckoned with.
Rory scored for Fluff in the first few minutes of the game, and certainly sparked excitement among the other players. Demanding that Team Ruff pulls back the game, Puddles takes a toy all the way into the endzone to tie the game. Rory again scored a touchdown, after avoiding an attempted tackle from Winter. Winter didn't give up though and made a run for Fluff's Dawson, just barely missing him before Fluff scored yet again. Before the first quarter ended, Rory swooped in and scored, giving Fluff a 21 point lead heading into the second quarter.
Nikita, Alexander Hamilpup, Winston, Maybell, Maggie and Wilma all worked hard to hold Fluff's lead in the second quarter while Sully, Daisy, Striker, and Lucky were thrown in to help Ruff stand their ground.
The speedy Daisy and Sully manage to spring back for team Ruff, bringing the score back to a fair game. Alexander Hamilpup got a sudden penalty, just as Nikita scored the second quarter's first touchdown for team Fluff. Soon after, Nikita hit a field goal all the way from the 40 yard line. She came back once again to claim another touchdown for Fluff. The events of the second quarter certainly put her in the running for MVP. Daisy couldn't handle Fluff's prominent lead, and the Border Collie took her chance and dodged Fluff's defense to scored not one, but two touchdowns in a row. Nikita scored her third touchdown with only 35 seconds left in the first half of the game, leaving team Ruff in the dust with a score of 52-31.
"Nikita truly deserved the prize for Most Valuable Pup. She deviantly was the reason team Fluff was able to keep their lead in the second half. Plus, she was so cute," said Annie Ewart, junior.
Taking a break from all the pups, the kitty halftime show blew the crowd away. Chicago's very own Rock Cats opened for legend Kitty Gaga who performed her hit "PUParazzi" for a wild crowd of feline fanatics.
As the second half started, both teams were prepared for the game. With Tucker, Max, Panda, Blitz, Precious, and Sable playing for Fluff, and Woody, Bo, Stormy, along with siblings Lucky and Ricky representing Ruff, the third quarter went into full action.
Tucker scored the first points of the second half after seeing a break in Ruff's defense, advancing Fluff's 28 point lead. Precious brought Fluff up even more with a sneaky field goal as teammate Sable helped distract the other team. Blitz took Precious as a role model, and swept in to claim another field goal. The other members of team Fluff weren't willing to stand in the shadows. Panda made a quick pass to Tucker, and the adorable pup scored his second touchdown of the game. Ruff, still convinced that they could make a come back make a team effort. While Woody and Ricky rumble with members of Fluff, Stormy bolts to the end zone and scores for Ruff ending the quarter with a score of 72-38.
"The team work near the end of the game was super strong, and it was great to see all the dogs working together," said Yukta Parikh, junior.
While team Fluff had a tremendous lead going into the last quarter, this didn't deter the new members of Ruff. Full of energy and confidence Daphne, Beebop, Wesley, Bizmark, Doobert and Foster sprint out for team Ruff. Peanut, Stretch, Nyquist, and Hope represent team Fluff, determined to hold their lead.
In the last portion of the game, Hope scored the all three touchdowns, and helped to secure Fluff's success. After an intense game, Fluff took the trophy home with a huge lead.
While many pups were determined to score, others were just plain adorable. Lucky, the three-legged pup, won the award for Underdog. There were also many contestants for MVP, but Nikita claimed the prized.
Don't forget that all of the pups that played in this year's Puppy Bowl are up for adoption and looking for forever homes. For more information on adoption, and the full list of players, visit the Animal Planet's website.
About the Writer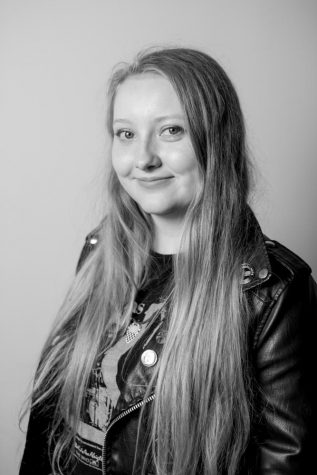 Katelin Aanerud, Editor in Chief
Kate is a senior and this is her fourth year on Northstar News. She is this year's Editor in Chief, and Feature Editor. She is involved in Viking Strings...