Girls soccer combines youth and experience to build momentum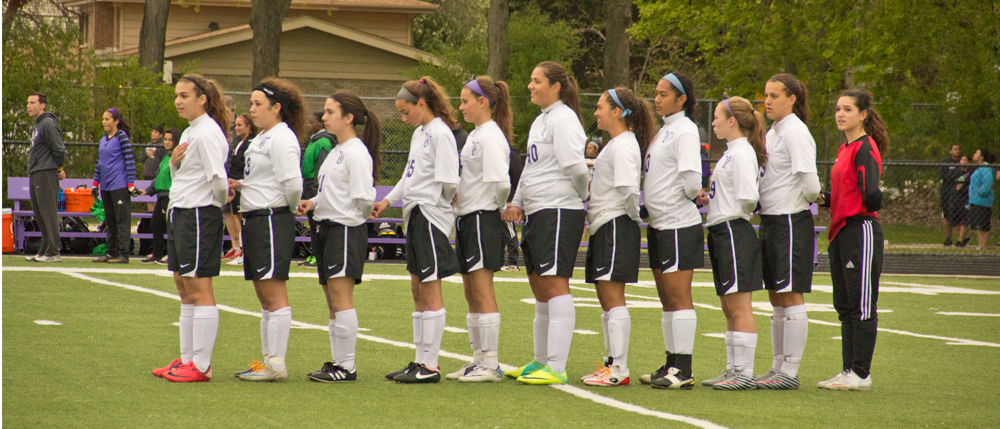 Very few teams in the Central Suburban League can boast that they have a freshman in their starting lineup. The Niles North girls soccer team can proudly start five.Alyssa Brand, Luci Valenzuela, Demetra Govis, Myah Aharoni, and Maddy Valente came into the girls soccer program with enough talent to immediately move to the varsity level. Their fresh talent, combined with the veteran leadership of senior captains Stephanie Arias, Berina Gradjan, Nagwah Lahalyeh, and Camila Marquez, has inspired a lot of promise within the program.
Marquez said, "I think the freshman have been a great addition to our team. With the experience they're getting now, they're only going to get better".
The team's improvement is noticeable. On Thursday, the team defeated Walter Payton 2-1 off of goals from Lahalyeh and junior Amina Zukancic. The win builds on momentum from a 0-0 tie against a tough Maine West team, which head coach Paul Elkins referred to as the defining moment of the season thus far.
"Maine West was an important result for our team. We were missing several key players, and several new players stepped up for our team and helped us get the result" Elkins said.
Marquez also felt that the Maine West result has put the team on the path toward a successful season.
"[Against Maine West], we played really well, we finally came together as a team and all worked off each other's energy" said Marquez.
The cohesion between the fabulous freshman and the experienced seniors seems to be paying dividends, but their work is far from finished if they want to achieve success in the playoffs. Still, the team remains optimistic and determined.
Elkins said, "I think our team is getting stronger as the season goes on. I think we can surprise some people in the postseason".