2016's five best albums so far
Hang on for a minute...we're trying to find some more stories you might like.
If you sit down with your parents or grandparents and ask them about the current state of music and the radio, I'm reasonably sure most of them would not have positive things to say, instead wishing that music would return to its previous "glory days" that occurred during their youth.
But these generalizations take away from the incredible art that is being created by members of a generation whose music is often called shallow and repetitive. There is true innovation occurring in many forms and genres of music, and now with technology that allows music to be streamed on demand, there has never been a better time to be a music lover.
With that being said, some music is still undeniably better than others, so this article will attempt to separate the good from the great. Without further ado, here is my list of the 10 best albums of 2016. This list is not in order, so don't freak out if I don't mention your personal album of the year in a particular order.
The first album I would like to talk about is Kanye West's "The Life of Pablo." This has been a great year for hip-hop, with many new artists releasing breakout tracks and albums. But one of the standout releases comes from a hip-hop legend who has been in the game for longer than some new artists have been alive. "The Life of Pablo" is West's seventh studio album, and features production and lyrics that often hearken back to West's early releases while also continued off of his more avant-garde recent albums. While not reaching the heights of his previous work "Yeezus", "The Life of Pablo" is still an extraordinary album and one of the best in West's catalogue.
The next album on this list is one of the most long awaited and anticipated albums of all time, Frank Ocean's "Blonde." After being plagued by delays and false promises of releases last year, the album that many people thought may never drop is here, and it's just as satisfying and emotionally deep as his previous effort, "Channel Orange." This R&B masterpiece is a powerful statement about what life is like in 2016, and deals with issues such as depression, sexuality, and race. With such heavy songwriting topics, you may expect the music to suffer, but 'Blonde" has incredible production and melody, and provides the perfect backdrop to Ocean's powerful voice and lyrics.
The next album comes from alternative rock veterans Radiohead, with their ninth studio album, "A Moon Shaped Pool." While achieving their commercial peak in the 1990's, Radiohead has managed to do what so many of their peers have failed to do and have stayed relevant well into the 21st century, mostly due to the brilliant lyricism of lead singer Thom Yorke and innovative instrumentation provided by the rest of the band. The opening track "Burn The Witch" is a definite standout.
On the EDM front, Australian musician Flume has released a great sophomore effort with 'Skin." Avoiding the bland cliches that plague the electronic dance music genre, "Skin" is a versatile album that combines the best aspects of hip-hop, indie pop, and rock to create one of the most interesting EDM albums I have ever listened to. Tracks such as "Never Be Like You" are radio friendly "bangers" while others like "Innocence" showcase a more diverse side to Flume.
[perfectpullquote align="left" cite="" link="" color="" class="" size=""]With "Lemonade" the current queen of pop has struck gold.[/perfectpullquote]
And the final album on this list is an album I'm sure most people are familiar with, Beyonce Knowle's "Lemonade" This album is a landmark release in pop music, and comes from a mainstream music powerhouse of the last decade. Knowles has grown a lot since the days of "Crazy In Love" and Lemonade shows this progression. The story of Lemonade is widely publicized, as is the visual film that premiered on HBO with the album. But once again this an album that surpasses all the outside hype and pressure that came with it. Songs like "Sorry" are some of the best examples of what pop music can be and should continue to strive to be in the future. With "Lemonade" the current queen of pop has struck gold.
Photo credits to Beyonce Knowles and Columbia Records
About the Writer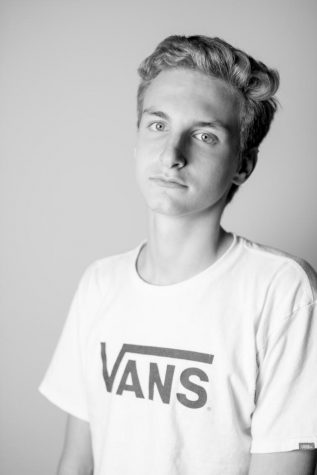 Lucas Nolte, Sports Editor