Digging out the diamonds: Chi-Town hidden gems
Hang on for a minute...we're trying to find some more stories you might like.
From secret and obscure book stores to underrated parks, our wonderful city of Chicago is filled with gems, and everyone has their own little spots and shops.

Bric-A-Brac Records And Collectables ( 3156 W Diversey Ave )
This quirky and fun shop located north of the bustling downtown area is hidden between endless twists and turns but any shopper that seeks out the shop with be please to find a bright and color atmosphere. The walls are decorated in an 80's and 90's theme, sure to please any lover of anything retro. With a sofa modeled after the fender of a classic car to lounge in while you sort through the trading cards or album you scored, and the dinosaur family from Pee-Wee's Playhouse to greet you, this shop is a must visit. It's great for finding that rare album or action figure, or even bundling a present together for that friend who has everything. They might have everything, but do they have Bill And Ted trading cards?
Buckets 'O Blood ( 3182 N Elston Ave )
Not that far a drive from the last destination sits a book and record store, with a heavy focus on science fiction and the macbeth. Do you have a movie lover in your life? If they have a sense of nostalgia, hit this spot to pick up rare VHS tapes and vintage punk lps. The staff there is always willing and eager to help you find that classic short story collection or discover something completely new.
Reckless Records ( 3126 N Broadway, 1379 N Milwaukee Ave, and 26 E Madison )
Of all the record stores and quirky shop on this list, this is by far the most reasonably priced. Any new owner of a record player needs to put this on their list of favorite stores. You can get albums from 25 cents to $10, or even find that ultra rare album for over $200! Each store also has a section for VHS tapes, cassettes, buttons, and dvds. With three locations in the Chicago area, there is a good chance there is already one by your go to hang out.
"If you're a really big music dork, Reckless Records is a really good place to go. It's chalk full of records and if you have a turntable, it's awesome. Plus, you can usually find pretty good records for cheap," said Jessica Hansen, junior.
Myopic Books ( 1564 N Milwaukee Ave )
With the rise of Barnes and Nobles, and as independently owned book stores rapidly decreases, Myopic books in Wicker Park seems to still hold its ground. With an extensive collection of books, there is just about something for everyone. From obscure sci-fi collections, to vintage plays, it's a great stop for finding first edition books and rare books.

Piece ( 1927 W. North Ave )
Just a short walk from the Wicker Park Reckless Records store, and Myopic Books is Piece. Piece is by far one of the most underrated pizza places in the city. It's one of the few locations in the city that is heavily focused on thin crust pizza, instead of the classic Chicago deep dish. The autosphere is amazing. The walls are decorated with guitar's donated by Cheap Trick's Rick Nielsen, and it's finished off by having a super groovy Rolling Stones pinball machine, fit for any pinball wizard.
Music Box ( 3733 N Southport Ave )
Opened in 1929, the Music Box is one of the oldest theaters in Chicago, and by far the coolest. Each movie starts, whether it is a midnight showing of a cult classic or a brand new independent movie, with a piano played joyfully chiming away as the audition files in. It's truly a must visit for avid movie goers, and there is always planned movies for anyone's tastes.
Maggie Daley Park ( 337 E Randolph St )
Located in the hustle and bustle of the Loop, Maggie Daley park is a great place to take a break from the huge crowds and take a breather.
"The new Maggie Daley Park is really cool. We all went there. They just made it new, and there are fun slides; it's like a really cool playground," said Hansen.
"And it's in honor of Maggie Daley, who convinced her husband, the mayor, to make Chicago go green. She's one of the reasons we have so many nice places, and free places, to relax and have a picnic in Chicago," added Joseph Naglar, junior.
Photo Credit: Jessica Hansen
About the Writer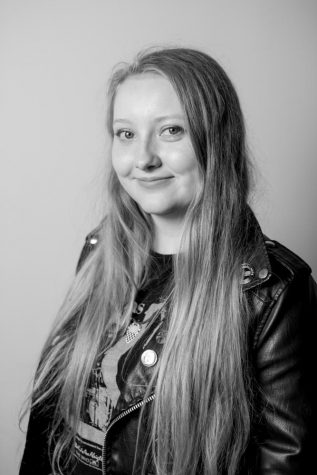 Katelin Aanerud, Editor in Chief
Kate is a senior and this is her fourth year on Northstar News. She is this year's Editor in Chief, and Feature Editor. She is involved in Viking Strings...