Rooster Teeth strikes it big with "Lazer team"
In 2014 Rooster Teeth, the youtube famous company, raised 2.4 million dollars in one month through the crowd funding site Indiegogo. This overly successful Indiegogo campaign, which raised much over their goal, began filming in late 2014 and was released in theaters for one day on January 27, 2016 before being available on Youtube Red on February 10.
While having a small release in theatres, the movie was hyped up online starting when the company simply hinted at the Indiegogo.
"The process of making a feature film is you basically take two years of your life and you have to get 90 minutes of it right." Said Burnie Burns, star and screenplay writer.
The film starts with a flashback to the 1970's, where an alien race communicated a message to Earth's government about a pending attack on the planet around the year 2016. They promise to send down a suit of armor, made up of four pieces, down for "The Hero Of Earth" to wear in the battle. At the time they find a child, and decided to train him from birth to be the hero.
Fast forward to the current date where we meet four misfits in Texas. One, played by Burnie Burns, is a police officer. Another is a current football star, played by Michael Jones, who is joined by a "dumb" high school grad. The last is an ex-football player, acted out by Colton Dunn for the same school as Jones.
When they all meet up accidently, and Free sets of a large firework which knocks down an incoming UFO, they find the set of armor in the spacecraft. They each take one piece and put it on. Once all of them have it on, the pieces attach themselves to their bodies and the group finds they aren't able to take them off.
Soon, they are found by the government and the hero of earth is unable to wear the uniform. With the aliens about to come down to earth in about five days, they have to be trained to work together to fight them off. The problem is they aren't as physically strong as the hero and are unable to work well together at the beginning.
This movie starred many of the company's employees, including Free and Jones, and other actors outside of the company's fame like Dunn and Alan Ritchson. Many of the extras were also made up of RT members and were awesome to see in the film. I was super excited to see Barbara Dunkelman, as one of the cheerleaders, Chris Demarest as a nerdy kid, and Gus Sorola as one of the scientist.
By far, my favorite line was when Free had the helmet, a piece of the suit, on and it was beginning to make him seem smarter. Along with this, his southern accent went away and was replaced with a British one. When Jones questioned the accent, Sorola replied with "[Free] is a stupid person. And that's what dumb people think smart people sound like," in which Free replied with "Fair play." The funny part about this is not only the actual line, but the fact that the actor is actual British.
Overall, with all the hype, Lazer Team was a pretty good movie. It had it's ups and downs, but overall it was pretty enjoyable. In my opinion, it isn't worth getting Youtube Red to watch it but if you haven't used your free trial yet, I highly encourage you to. Being a long time fan of the company and its sub-companies, Achievement Hunter and Funhaus, seeing my favorite members in a feature film was amazing. Many of the jokes had me laughing out loud, and the references and easter eggs were fun to look out for.
About the Writer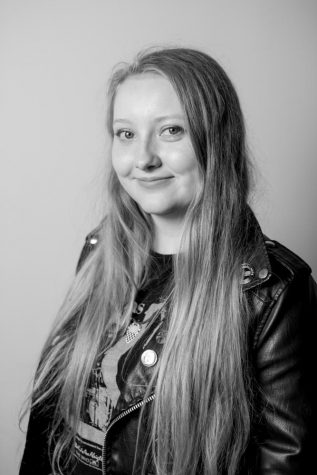 Katelin Aanerud, Editor in Chief
Kate is a senior and this is her fourth year on Northstar News. She is this year's Editor in Chief, and Feature Editor. She is involved in Viking Strings...