Barking News: Ruff pups steal Puppy Bowl

This year's Puppy Bowl aired three hours before the Super Bowl on Animal Planet, and it was certainly the biggest yet. Hundreds of puppies tried out for this years event but only the best were selected for this year's teams. In yellow was the Fluff and in green was Ruff. Ruff pulled through in the end with a win 70-40.
The first quarter began abruptly with two touchdowns from texas terrier Darby. This would leave team Ruff in the lead for the majority of the first quarter. This mighty pup didn't leave the quarter with a fumble, of course, with fellow team mate Kevin, for excessive aggression. This didn't leave much time in the first quarter for team Fluff to catch up but Boris and Miss Sassy brought it to a close with a tie.
Second quarter began with a rough start when Timber, team ruffs wide retriever, tackled fellow teammate Star, just before she scored a touchdown that would break that tie. Timber followed in her paw prints, and scored yet another touchdown and adding another seven points to their total. After a quick water break, Atticus scored the first field goal for team Fluff. The future MVP, Star, scored another two touchdowns and the first half was wrapped up.
"The halftime show was different from past years, but it wasn't bad. No flashing lights though, which was a bit of a disappointment" Says Emily Cohen, sophomore.
The halftime show was hit for fans. A group of cats, the size of buildings, proceeded to take over San Francisco. There were no reported casualties, but some seemed to suffer from "overload of cuteness".
With a fumble from Stella, and a score for team Fluff by Timon, the game was at a critical point. Ruff was now 22 points ahead and they seemed to half enough energy to contuine through. Magic was given a timeout for excessive barking, and replaced with fan favorite Posey. Just as Timon proceeded to score once again and game was brought to a halt. A tortious, name unknown, sprinted onto the field. When it was halfway onto the field, which only took a few minutes, it was taken off and that ended the third quarter.
"I was disappointed in the picks for MVP, honesty. Darby was great at the beginning, and even scored the first two touchdowns, but he wasn't even voted!" Continued Cohen.
After a score from Leah for team ruff, team fluff was trailing far behind. Even after two more touchdowns by Cooper, they still couldn't get close to winning. The final score was 44 to 70.
About the Writer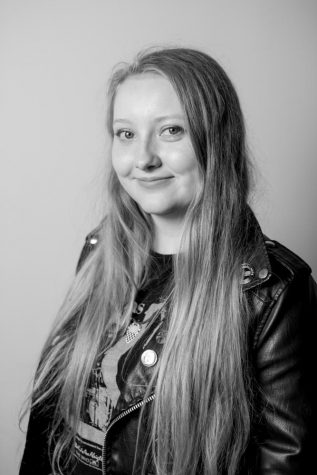 Katelin Aanerud, Editor in Chief
Kate is a senior and this is her fourth year on Northstar News. She is this year's Editor in Chief, and Feature Editor. She is involved in Viking Strings...