The stars look very different today

The news came as a surprise to most people, seeing the rockstar only just celebrated the release of his twenty-fifth album and his sixty ninth birthday last friday, but after an official statement from David Bowie's, Duncan Jones, we knew Bowie has joined the great gig in the sky.
"Very sorry and sad to say it's true. I'll be offline for awhile. Love to all. " Jones tweeted out late Sunday night, accompanied by the photo to the left.
The rockstar, formally known as David Jones, first hit it big with the song "Space Oddity" released on his first album and as a single in the summer of 1969. This song solidified his first persona of many, Major Tom. The astronaut is often referred to in other pieces of his later in his career and is also commonly referenced in popular media with the repeated phrase "Ground control to Major Tom". The music video that accompanied the song would also be one of the many Bowie would record and act in.



The next three albums following his self titled album were soon to become huge hits. The Man Who Sold The World pictured Bowie in a dress on the cover, and is the point where he began to break through into the fashion world, and confuse many with his alien-like ora and his blend of genders.
The next album was Hunky Dory, which brought the world into a new Bowie as he sang "Changes" and "Oh, You Pretty Things!" and many of the album's songs became instant classics. All that was left is to form himself into something different. Ziggy Stardust came along soon after with his hit record "The Rise and Fall Of Ziggy Stardust and The Spiders From Mars" which illustrated the life of a "Starman" and his adventures down to Earth.



From then on, Bowie kept the persona of Ziggy Stardust through the album Aladdin Sane, where he wore his famous lightening bolt that would forever be the symbol for the man. It wouldn't be until he donned the new character of Halloween Jack, as portrayed on his 1974 album Diamond Dogs, that fans realised that he would never stay the same for a long period of time. Bowie would transform once again into The Thin White Duke for albums such as Young Americans, Station To Station, and Heros.


Before the release of the first album in the "Berlin Trilogy", Low, Bowie would move back to his roots in acting and starred in the cult film The Man Who Fell To Earth as T.J. Newton, an alien sent down to Earth much like Bowie himself. This wouldn't be the only movie he starred in in his career, and after the release of Let's Dance, he went back once again to star in Merry Christmas Mr.Lawrence, The Hunger, and Labyrinth. The Jim Henson film Labyrinth has since become a staple of the rockstar as he danced around his puppets covered in glitter.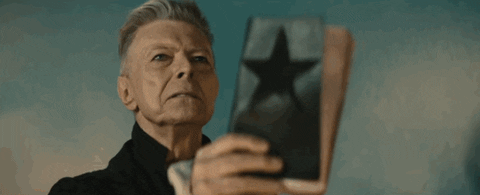 He experimented later in the 90's with strange instruments and moved onto a more jazzy side with records like Black Tie White Noise, Outside, and Heathen. Only recently, 2013, did Bowie move back into rock and roll with the surprise album "The Next Day", after ten years of silence.
Sometime during the recording of the album, Bowie was officially diagnosed with lung cancer, which would take his life after the release of Blackstar.
Between his strange roles in many cult films, his outstanding lyrics, and his overall appearance and fashion, Bowie has become a pop icon. Fans all over the world are mourning his death with celebrations of his life.



"Look up here, I'm in heaven. I've got scars that can't be seen. I've got drama, can't be stolen. Everybody knows me now." Sang Bowie on his new album, two days before his passing. Those close to him knew it was coming, and that last album was a gift to all his fans.
David "Bowie" Jones has traveled back home, to his star somewhere in a far off galaxy, but he will not be forgotten.
About the Writer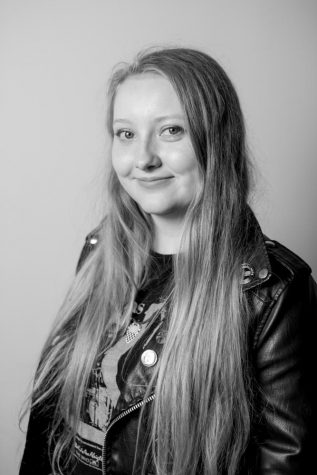 Katelin Aanerud, Editor in Chief
Kate is a senior and this is her fourth year on Northstar News. She is this year's Editor in Chief, and Feature Editor. She is involved in Viking Strings...