Evil lives on in new series Ash Vs Evil Dead
Hang on for a minute...we're trying to find some more stories you might like.
23 years after the last movie was released, the unlikely hero Ashley J. Williams hit the small screen with the help of director Sam Raimi on Starz on Halloween to the delight of persistent fans.
The Evil Dead franchises technically started back in 1978, with a group of college students creating a short film titled Within The Woods, which would later give them the funding to shoot Evil Dead. The first film was recognized by legendary horror author Stephen King, which only skyrocketed the success. This lead to the creation of Evil Dead 2: Dead By Dawn and Army of Darkness (AOD) later in 1992. Along with bringing Raimi and actor Bruce Campbell fame, the series dragged cult fans with it. Since the release of AOD, Raimi has worked on all three Spiderman movies and Oz The Great And Powerful. Meanwhile, Campbell stared in Burn Notice and other cult movies like My Name Is Bruce and Bubba Ho-Tep.
When asked about the idea for a TV show, Campbell told Observer that "The movie economics really didn't make sense, though. I mean Army of Darkness bombed! The TV concept got kicked around. Funny thing is, by the time we got around to putting our heads into a TV show, it all happened so quickly. Meetings, boom boom boom, zip zap zoop, deal done, then we're scrambling to start shooting in order to get it on the air by Halloween." After filming started, the first trailer was released at San Diego Comic Con this year. The first episode was shown at New York CC before the "Ash Bash" on the hollywood walk of fame. In other words, this was a big deal for fans.
The first episode aired this halloween, and I had pretty high hopes seeing that they hyped it up this much. They did some things bad and some things good; in the end, when it all added up, I don't think I could have been more happy. With Raimi behind the camera and Campbell with his signature chainsaw attached to one hand, I couldn't contain my excitement.
The campiness of the first movie was there, the gore of the second spat at us every other second, and one-liners were flying out of Campbell's mouth just like in AOD. One of my favorite things about the new series is how they are bringing back everything that the fans loved while making it be a little bit scarcer than the previous films. In the first episode, we meet Amanda Fisher, played by Jill Marie Jones, and her partner, to whom we soon say goodbye. However, they give us a sneak peek at what is to become of the Deadites, which was the same monster in all the other movies. They still have much of the same powers and dawn the white eyes, but they aren't limited to the ground anymore. In AOD, we saw a few of them fly, but now they have the ability of walking on walls and ceilings combined with super strength, causing heads to spin, literally. 
Not only is Campbell back, but we're welcomed by another familiar face and name. Xena Princess Warrior star Lucy Lawless kicks butt opposite Campbell as Ruby Knowby, or the daughter of the original professor that started this whole thing in Evil Dead. Though we only got a tiny glimpse of her in the first episode, she didn't fail to disappoint. Being a huge fan of both Xena and Evil Dead, I can't remember if I screamed at all, but it would have been justified if I did.
With Lawless against Campbell, they both have to build their own teams to fight the evil that is plaguing Michigan. Ruby is joined by Amanda, and Ash is assisted by two of his fellow Value Stop employees, Pablo, played by Ray Santiago, and Kelly, played by Dana DeLorenzo. Now, we only have to wait for the next episode to see if Ash and his gang can stop the deadites or if all humanity will be consumed by this evil. I mean, we've already seen a possessed grandma get her head sliced off with the chainsaw, so I'm routing for Campbell.
Not only are fans getting ten, half-an-hour episodes, but Starz has already confirmed the show for a second season, so there seems to be no end to the blood filled fun.
About the Writer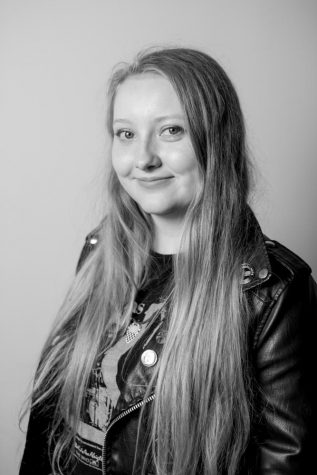 Katelin Aanerud, Editor in Chief
Kate is a senior and this is her fourth year on Northstar News. She is this year's Editor in Chief, and Feature Editor. She is involved in Viking Strings...