Beware blood baths and Crimson Peak
Hang on for a minute...we're trying to find some more stories you might like.
Guillermo del Toro's new gothic horror movie hit the theatres on Oct. 16 with a splash of blood and stars galore. Mia Wasikowska, from Alice in Wonderland fame, fell down a whole new rabbit hole into a much darker wonderland full of creepy ghosts and romance. Any lover of the gruesome and visual pleasing crowded the theater doors on opening weekend.
Coming into the movie, I was very ecstatic to see the performance of both Tom Hiddleston and Wasikowska side by side, and the visual effect's of Toro I had come to know and love. Being a fan of his movie Pan's Labyrinth, I had been looking forward to his movie since it was first announced.
The movie starts with Wasikowska torn between the two male leads. One being Hiddleston's new persona, Thomas Sharp, who is a English landowner and lover of everything mechanical who finds his way into her heart after seeking investments from her father. The other is Alan McMichael, played by Charlie Hunnam, her childhood friend and inspiring doctor. Though both seem suitable, Sharp holds a much darker side. With the help of his sister, played by the American actress Jessica Chastain, they continued to gain money through marrying wealthy people and killing them before they can protest. This, in my opinion, takes a much more pleasing side to the romantic plot of this movie.
With Wasikowska's Edith placed in the position to chose, her father, played by Jim Beaver of Supernatural fame, is killed and she only finds comfort in Sharp and agrees to marry him and live together in his mansion as he furthers his inventions, now focusing on digging up the clay on his large property. It is then that Sharp finds himself actually falling in love with the girl. Though this is a bit cheesy, in my opinion, the way Toro displays this through his displacement is very interesting. Ms.Sharp, who is secretly in love with her brother, decides to slowly kill her to fulfil their original plan to simply kill her and get the money.
As Edith slowly grows more ill from the poison put in her tea, she begins to unravel the dark past of the Sharp's family, including the death of the mother being caused by the children and the scams they had been committing for years. One of the people that helps her realise this is the ghost of one of Hiddleston's character's wives that was killed and wasn't put to rest. All of the scenes including her ghost certainly left me on the edge of my seat. I enjoy the non-campiness of the ghost, compared to newer horror movies. The effects were used very well, and her smoke like quality was interesting in contrast to many transparent ghosts used in other movies.
As the plot thickens, things begin to spiral out of control as Edith becomes violently ill, and the sister seemed to be growing even more insane. After Edith is thrown off the stairs, McMichael bursted through the doors of the building as winter's cold and snow gave the building an even more eerie toon. The doctor volunteered to help her but it stabbed by the sister, and Sharpe is forced to kill him. In a clever trick, he asks the doctor where the least fatal area is, and McMichael is able to make it out alive, with Edith after a few more run ins with the Sharpe family. Edith's fight with the Sharpe's was different than the previous dynamic in that her character seems to have control over the whole situation compared to how the siblings seemed to be controlling her throughout the rest of the movie. Both siblings parish in the fight and the unlikely couple makes it out alive.
I came into the theatres expecting a horror movie, and honestly, I got a love story with a few ghosts in the closet, no pun intended. Toro's direction definitely made the movie a lot more creepy, but overall I wasn't too scared, and when I went in I wanted to be. The few moments with the ghost did have my eyes peeled on the screen, but there just wasn't enough to be considered a horror movie.
About the Writer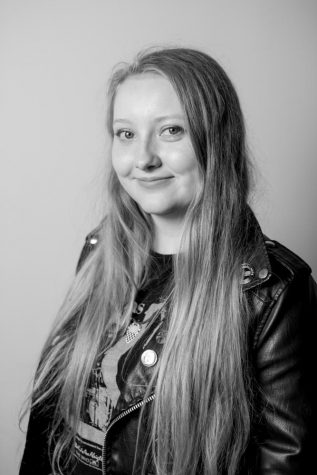 Katelin Aanerud, Editor in Chief
Kate is a senior and this is her fourth year on Northstar News. She is this year's Editor in Chief, and Feature Editor. She is involved in Viking Strings...