Vikings fall to Evanston in sectional championship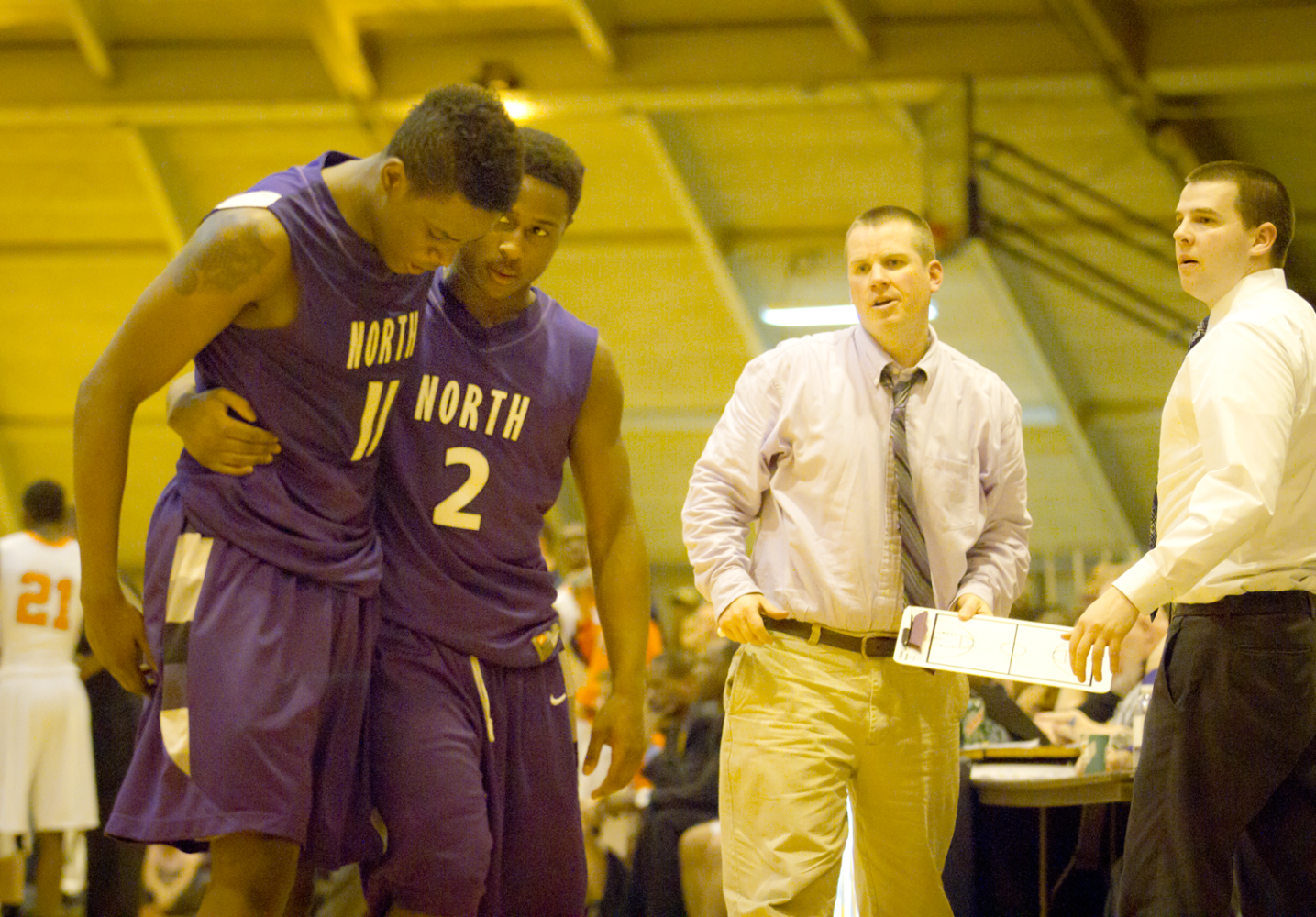 This year's sectional championship did not end as sweetly as last year's for the defending champion Vikings, as their season came to a disappointing close in a 62-42 loss to Evanston.
Friday's game was previewed as a highly anticipated contest that would showcase an immense amount of athletic ability and would finally match the Vikings' high intensity play with a similar style from Evanston. It also held importance from an emotional standpoint, as junior transfer Lorenzo Dillard stepped on the same court as the Wildkits for the first time in two years, only this time sporting a purple jersey. The first half certainly lived up to these expectations, as the two defensively-minded teams battled it out for 16 intense and fast-paced minutes.
As the first half came to a close, the ball once again found itself comfortably in the hands of Dillard, who waited patiently for the clock to wind down before making his move. But 6-foot-9 senior center Randy Ollie had different ideas that involved blocking Dillard's shot, making for an anticlimactic ending to what had usually served as a momentum boost for the Vikings' second half.
The second half then belonged completely to the Wildkits, who opened up the third quarter on a torrid 17-0 run. Though the Vikings eventually cut the lead to nine at the end of the third thanks to junior Malachi Nix's three pointer, their efforts fell short as the Wildkits again pulled away in the fourth quarter.
The Vikings' shooting, which had largely carried them throughout the season, proved to be their ultimate demise. The team scored just three field goals in the second half, and shot a dismal 13 for 27 from the free throw line for the game. Dillard and Nix were 3 of 17 and 2 of 16 from the field respectively, and combined for just 19 points. Sharpshooting junior B.J Beckford continued his cold streak, failing to score; perhaps the only bright spot for the Vikings was senior Mychael Henley's team-high 17 points.
Yet despite Friday's disappointing loss, there is much to look forward to for next season. The team will return four starters in Dillard, Nix, Beckford and junior Billy Voitik, who will surely have a chip on their shoulders, determined to take back the sectional title and earn a chance for a trip downstate.
Editor's Note: It has been an absolute pleasure watching this team play. Best of luck next year.