Nix leads Vikings past Maine South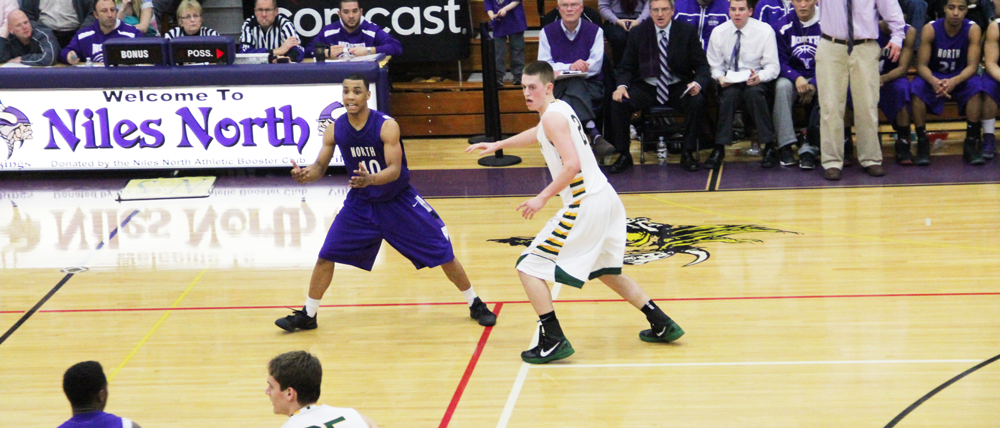 If there was any argument that the Niles North Vikings don't have one of the elite backcourts in the state of Illinois, the junior guard tandem of Lorenzo Dillard and Malachi Nix certainly proved otherwise Wednesday night in the sectional semi-final against 6 seed Maine South.
The duo had their way time and time again against a solid Maine South zone, with Nix dropping a team-high 24 points along with a game-high 2 blocked shots, and Dillard adding 16 points to go with 9 rebounds, 3 assists and 2 steals. A barrage of threes got Nix going early, hitting timely jumpers to keep the Vikings ahead by double digits for most of the game. Both Dillard and Nix were able to get to the rack at will, delivering ankle-breaking crossovers and a seemingly impossible amount of hang-time to finish tough shots over taller defenders.
Dillard continued to show off his knack for drawing defenders in the lane and dishing, finding a wide-open Billy Voitik for an easy lay-up late in the 4th quarter to bring the Viking lead back to double-digits.
The Vikings were able to overcome a rare off-shooting performance by junior B.J Beckford with tenacious defense and sheer heart and hustle– after missing another 3rd quarter three Beckford swarmed the rebounder, ripped a steal and put in a tough contested lay-up. These types of hustle plays are becoming the trademark of a talented and well-rounded Viking squad; success has often stemmed not only from delivering highlight reel crossovers and no-look passes, but simply from out-working opponents.
Senior Mychael Henley added 5 points and 5 rebounds for the Vikings while senior Jaylen White added 2 points. The Vikings will face the 5-seed Evanston Wildkits in their attempt to win back-to-back sectional championships for the first time in school history on Friday, Mar. 9 at 7:30 p.m at Glenbrook South High School. The winner will likely face the number one ranked junior in the nation, Jabari Parker, and a formidable Simeon squad in the Chicago State Supersectional.
The win moved the Vikings into the state-rankings for the first time this season (23rd).
Friday's game is sure to be a sellout, so buy your tickets now.