Vikings win back-to-back regional championships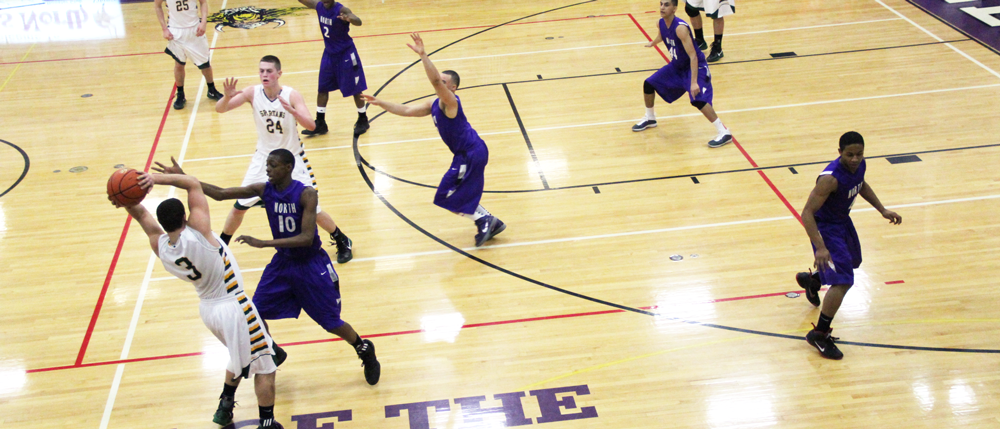 It seems as though every game the Vikings receive a valuable, late-game contribution from somebody different. On Friday Mar. 2, in the regional championship against 2nd seed Glenbrook North, it was junior guard Avery Wells who sunk 2 free throws to put the Vikings ahead 56-54 with 38.5 seconds remaining in the 4th quarter. These buckets finally slowed the momentum of a 12-2 GBN run that had erased 53-44 Viking lead with just under three minutes remaining, quieting an increasingly boisterous Spartan student section.
But the Spartans weren't done, as they were able to knock down two foul shots of their own on the next possession, tying the game 56-56. Junior guard Lorenzo Dillard then capped off his 21 point performance by sinking one of two free throws to put the Vikings up 57-56 with seven seconds remaining. The Spartans rebounded his miss, but faced intense on-ball pressure from Dillard and junior guard Malachi Nix as they attempted to advance the ball, and were only able to manage a wild, contested lay-up with time expiring. It bounced wide of the rim, and the Vikings captured their second regional championship in as many years.
Leading the charge throughout was the magnificent Viking back court of Nix and Dillard, who scored 18 and 21 points respectively. But even more impressive was their passing, as the duo was consistently able to locate teammates for wide-open lay-ups when faced with GBN's late-game desperation press. Dillard's drive-and-dish was effective in the half-court set as well, resulting in easy baskets for junior Billy Voitik, senior Jaylen White, and junior B.J Beckford.
However, the key to the game may well have been the Vikings containment of GBN junior center Andrew McAuliffe. After torching the Vikings for 29 points in their first meeting, the Spartan star was held to just 11 points in the match-up. Consistent double-teams, traps, and efficient help defense all contributed to keeping McAuliffe in check.
The Vikings will face 6 seed Maine South at 7:30 p.m on Wednesday Mar. 7 at Glenbrook South High School. The winner of this sectional semi-final will face 5 seed Evanston Friday Mar. 9 for the championship.