Jeen-yuhs showcases a bold perspective of Kanye West
After twenty-one years, legendary rapper and producer Kanye West has teamed up with Netflix to bring us jeen-yuhs: A Kanye Trilogy. Directed by Coodie and Chike, this three-part docuseries follows the story of Kanye and his rise from simply a producer raised in Chicago to arguably one of the most impactful yet polarizing musicians of our generation. The whole series is also narrated by Coodie Simmons, Jr., a close friend of Kanye's, as he offers his perspective throughout the entire series.
If you're not up to speed, let me break it down for you. As it turns out, the word "jeen-yuhs" is actually the same as the word "genius." I know, it's mind-blowing. But to be serious, it's stunning to see a documentary as personal as this, especially in a wide landscape of other documentaries that can sometimes blend together stylistically. Now, I'm writing this review in advance. So what I want to do is put together a few mini-reviews of all three acts as I sit through each of them.
Act I marks the beginning. Throughout it all, we see a young Kanye taking a chance to come out on top and start a new career in rap after years of basically being a sort of neighborhood producer living in Chicago. This episode highlights his journey to becoming a member of Roc-a-Fella Records and so far, it has been incredibly intriguing. So much has happened in 90 minutes but it always keeps that sense of tension. There's so much history here that it would be a mistake to think this story is exclusively about Kanye. If anything, it's also the story of cinematographer Coodie, who directed the music video for "Through the Wire" and narrates the whole series. By the time he met Kanye in 1998, he was doing his 4th year of his public access show, Channel Zero, which had already gained some notoriety in the Chicago streets. In 2002, Coodie decided to follow and document Kanye's career because of how much he believed in Kanye's talents. Although he had to stop his comedy career to even film the documentary at all, he felt it was worth it to see Kanye make it in the industry. It was also because of this that when Kanye made it to the MTV show You Heard it First, Coodie eventually met series producer Chike Ozoh, and the rest is history from there. That's pretty much the extent of how much I want to spoil, but so far this is already shaping up to be one of the best documentaries on Netflix.
Act II marks a point of no return. This is where we see the aftermath of a horrible car crash that completely wrecks Kanye's jaw. By this time, he's already signed with Roc-a-Fella but now he has to do some convincing in order for him to be taken more seriously as a rapper. It's basically Kanye's continuing struggle of reaching to the top with this terrible accident being the salt on the wound. But through it all, Kanye is hungry and determined. The crash only motivated him even more to get his album finished instead of bringing him down. There really isn't so much to say except this: it's the most exciting episode by far and it ends in such a satisfying way that you'd think the story would end there. But we've only got a long way to go from here.
Act III marks the end of an era. Up until now, the footage was in 4:3 and the presentation was minimalistic and simplistic, yet almost calling back to that 2000s style in a weird way. But then everything started to change. Actually, that's an understatement. It was as if the timeline screwed up and now anything could happen. A quote that is good to keep in mind is, "God works in mysterious ways." This is especially apparent after the tragic death of his mother, Donda West, which seemed to be one of the factors that sort of dawned on this new era. Even the presentation is different, with the footage being in widescreen and the text being much more bold and colorful. Most importantly, this marked the start of a long split between Coodie and Kanye. See, this is the kind of thing I was talking about earlier. This series is not a celebration of Kanye and everything he's done up to this point. Rather, it all takes place from the perspective of Coodie, on and off-camera. His life starts moving faster when he moves away from the man he used to know so well. Once again, this is all I can spoil but I can't help feeling very fascinated by Act III. Okay, it's definitely more rushed than the first two acts, but it's a fitting end to a story that could go on forever.
"
This is a standout piece that doesn't dwell on the past and prepares for the future with open arms."
This series is rated TV-MA for…I guess language? Admittedly, where the series falls apart is when it assumes that the viewer knows what is going on by Act III. But I still hold the belief that jeen-yuhs deserves to be seen. This is a standout piece that doesn't dwell on the past and prepares for the future with open arms. I believe it details a great amount of history without being too one-sided, even with its pacing issues, and it satisfies the most diehard fans but also has enough for everyone else who doesn't really know.
As I'm writing this, it's impossible to ignore the latest news about Kanye. Apparently his newest album is only available on his $200 Stem Player. In other words, people are illegally downloading it for free. Not to mention the unavoidable beef he has with Pete Davidson that may as well never end. It's an incredibly confusing time to be a Kanye fan. So to see this docuseries not be a blind celebration piece is refreshing to see and it shows a very transparent and bold perspective. Although it feels like this story may never be complete, the passage of time will always be a gamble.
P.S., My Beautiful Dark Twisted Fantasy is NOT the best Kanye album. Quit lying to yourselves.
8.5/10
Leave a Comment
About the Contributor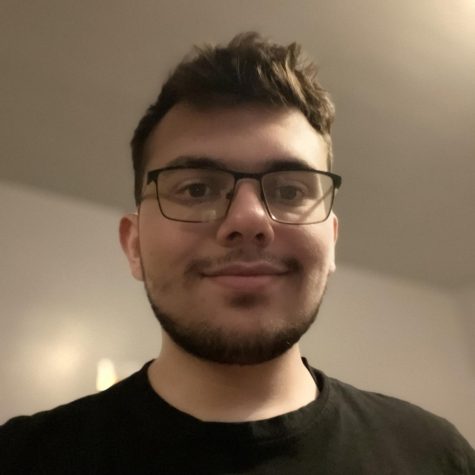 Stavros Hatzopoulos, News Editor
Stavros is a senior at Niles North who started as a writer for journalism class and became an editor for North Star News. His main interests include drawing,...