McKenna receives 2020 Teacher of the Year award
This year Science teacher Lisa McKenna has been chosen by students as the 2020 teacher of the year. McKenna is an Honors Biology and Anatomy & Physiology teacher, but in the past she has also taught Regular Biology, ECP and Regular Chemistry.
"This year was my 24th at Niles North, I taught part of a previous year at Grayslake High School," McKenna said. 
McKenna's favorite memory of her teaching career has been, "Winning teacher of the year is definitely on the top!  I love to see the little wins that students' have on a daily basis. Seeing students gain confidence throughout the year." 
Mckenna always wants students to take this away from her class by the time the year has ended.
"I hope that I inspire them to learn more about the world around them, learn that it is important to make mistakes, how important it is to listen to others – make connections, make the most of each day that you are given and make your presence felt," McKenna said.  "And I want them to know that I truly care about each and every one of them!!"
Here are some fun things about winner of teacher of the year Lisa McKenna: 
Her favorite movie is The Princess Bride.  
Her favorite book:  "I'm a big reader, I read a ton – can't say I have an absolute favorite – but one of my favorites is Can't Wait to Get to Heaven by Fannie Flagg." 
McKenna has had lots of other jobs while going to school; she has been a swim instructor, sales clerk at Land's End, and she worked at a temporary agency where she  filled in as a receptionist/secretary at a variety of businesses.
McKenna is a very  nature oriented person. She  loves animals. 
"Over the years we have had a variety of pets: frogs, toads, lizards, salamanders, dogs, cats, birds, guinea pigs, rabbits, ducks. I'm the mom that can't say no to a pet that my kids want to bring home (okay, maybe I draw the line at a tarantula – I don't like spiders)!"
About the Contributor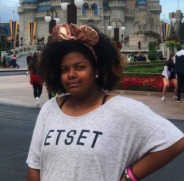 Alx Taylor, Reporter
Alx Taylor is a 16 year old Sophomore, who is a new addition to the North Star News staff. She is interested in photography, graphic design, and dance....