Samsung foldable phone to be restocked this month
Samsung restocked their "foldable" phone, the Samsung Galaxy Z Flip  for the public to get another chance to purchase the phone on Feb. 21.
As of now, we know that the phone is "foldable" and that stores had limited amounts of phones, causing the company to hold off and restock until they have enough to sell to the public.
The reason for the high demand to purchase the phone comes from the fact that it's one of the first smartphones to be foldable but has some small upgrades such as a faster and more powerful CPU (Central Processing Unit) along with up-to-date OS (Operating System) for the phone. 
Before the phone even released, there was lots of hype for the phone and people on social media have been waiting some time for the phone to be public. Later when the phone was released for the first time to stores across the globe, Youtubers such as Unbox Therapy, Marques Brownlee, UrAvgConsumer, and Pocketnow got their hands on the phone and posted reviews and other videos about the phone. 
They mostly talked about how the phone lacks any sort of resistance to dust and water, how the phone may break easily. Overall, they said that the phone is either good or is decent with some lackluster issues and problems the phone has but makes up for it by having an excellent camera and a long-lasting battery that you can charge up with USB Type-C.
So now comes the big question, how do people in our school community react to the phone?
 "I like the idea of a modern flip phone, but I'm worried about possible creasing on the glass overtime," senior Jacob Youkhanna said.  "The color is cool looking and the transportability for the size is great. I look forward to the future flip designs and improvements."
About the Writer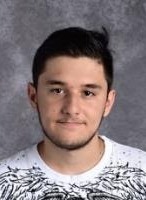 Emilio Kiryakos, Reporter
Emilio Kiryakos is a 17 year old senior from Skokie, Illinois. He has lots of interests such as playing video games, programming computers, cars and watching...