Jamal project on Fetal Alcohol Syndrome qualifies for ISEF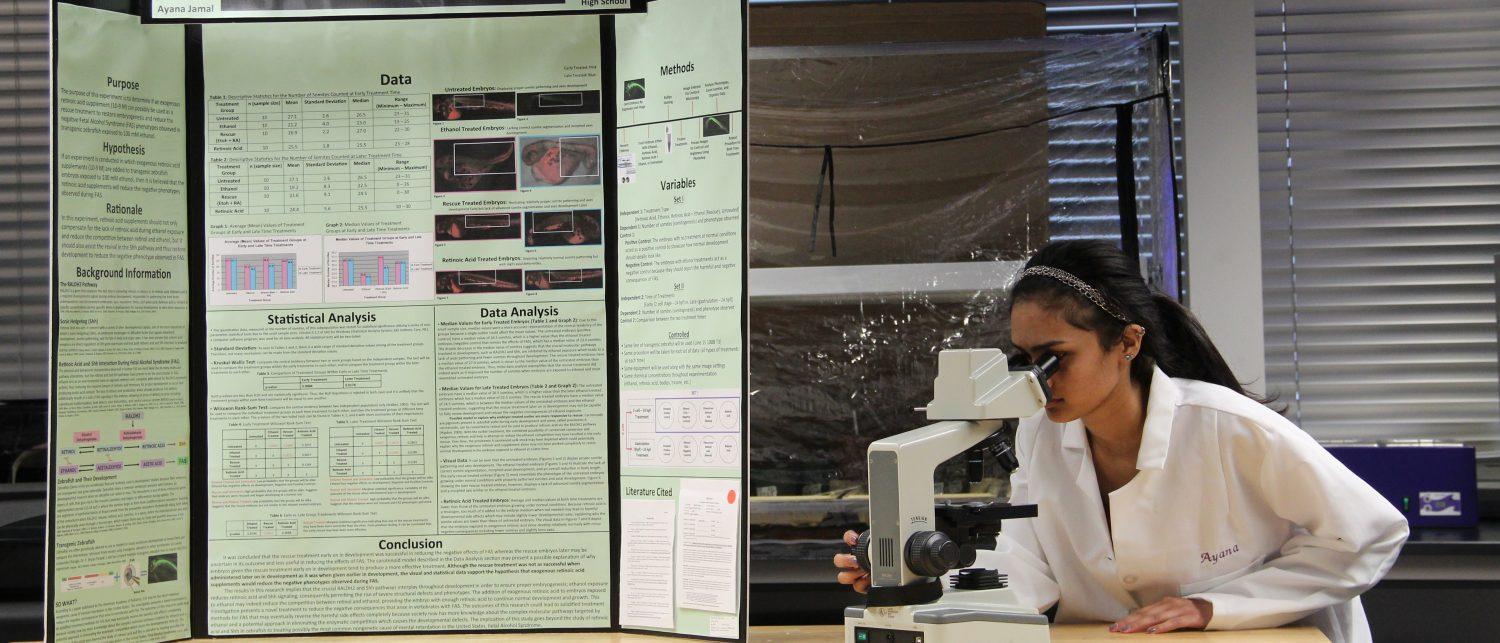 When Niles North senior Ayana Jamal does something, she does it right. Jamal, living proof that hard work does indeed breed success, has certainly made her mark on Niles North's scientific community, and on Mar. 17 her science project, Exogenous Retinoic Acid Supplements as a Novel Approach to Reduce the Negative Phenotypes of Fetal Alcohol Syndrome Using a Zebrafish Model of Development, was one of five District 219 student projects to advance to the annual International Science and Engineering Fair (ISEF).
The fair, held in Pittsburgh from May 13-18, is considered the most prestigious pre-college science competition as it showcases the science projects and/or independent research of more than 1,500 high school students from more than 65 countries. Students compete in 17 different categories ranging from computer science, to biochemistry, to engineering and physics with the opportunity to win monetary awards ranging from $500 to $75,000.
Qualifying for the event is a three-step process: students must first win a Gold Award at their ISEF-affiliated regional fair, which qualifies their project to be considered for a "Best in Category Award." Three to four judges review all the Gold Awards in their category, which in Jamal's case was Health Science, and choose the winner. Finally, all of the "Best in Category" award winning projects are sent to another four judges, who choose the top five to qualify for ISEF.
District 219 displayed its scientific dominance by capturing five of the five ISEF bids in a regional comprised of Niles North, Niles West, Stevenson, Wheeling, Deerfield and Christian Liberty Academy. Jamal was also awarded with monetary prizes for "Best Use of Statistics in a Science Project" by the American Statstical Association Northeastern Illinois Chapter.
"The detail and rigor she has brought to work sets her project apart," Jacklyn Naughton, Jamal's STEM teacher and adviser, said. "She not only understands it but can explain it so well. She's not someone who was hanging on the coattails of some scientist–she was spearheading her own work."
Although Jamal has received Gold Awards in each of the four years she has participated in Illinois Junior Academy of Science fairs, her projects have nonetheless come a long way. As a freshman, Jamal tested the different types of chocolate in chocolate chip cookies; as a senior, she is studying embryonic development and molecular pathways, in the process discovering a possible treatment for Fetal Alcohol Syndrome.
Her journey began the summer going into her sophomore year when she served as an apprentice to Dr. F. Bryan Pickett at Loyola University Chicago as a part of the Research Engineering and Apprenticeship program sponsored by the U.S army. At the end of the summer she was offered an opportunity to research independently in Loyola University's laboratories under the supervision of Dr. Pickett.
"Although I have earned many distinctions throughout my high school career, none of it would have been possible without the assistance of my professor, Dr. F. Bryan Pickett, and my sponsor, Jacklyn Naughton," Jamal says. "Their help and inspiration along the way has been instrumental to my success."
With her newfound access to Loyola's extensive medical research equipment, Jamal decided to investigate the RALDH2 gene and its effect on the molecular pathways that cause Fetal Alcohol Syndrome (FAS). FAS is a condition that results from alcohol exposure during pregnancy and can cause physical deformities, mental retardation, and learning disorders. The RALDH2 gene codes for the enzyme retinaldehyde, which is the catalyst in the creation of retinoic acid. However, when the chemical compound ethanol (the key component in alcohol) is introduced into the body, it competes for the usage of the RALDH2 gene, which is subsequently unable to code for as much retinoic acid production. To put it simply: alcohol inhibits the creation of retinoic acid, an acid that is imperative for human growth and development. So Jamal began testing zebra fish, an animal model of FAS, to determine whether using retinoic acid supplements would reduce the negative consequences of FAS. Her tests proved successful, meaning that Jamal had discovered a potential treatment method for Fetal Alcohol Syndrome.
"It is very likely that this work will at some point be published with Ayana as a co-author," Naughton said. "It would be a leap to say that it can be practically applied, because with research you never know, but it certainly looks promising."
Last year at ISEF Jamal garnered a Special Award by the American Medical Veterinary Association, but was unable to place.
"This year, my goal is to give it one last push and try to place, which is immensely difficult to do when everybody at the fair has extraordinary projects," Jamal says. "However, even if I don't, I am extremely grateful and blessed to be given the opportunity to attend such an incredible fair and have the experience for a second time."