Viking wrestler Camerin Pascoe makes it to state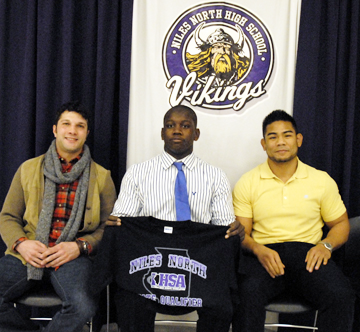 Following a fourth place finish at the Glenbard North Sectional, regional champion Camerin Pascoe traveled to Champaign as the lone Viking wrestler to compete at the state meet.
Pascoe, a junior wrestling at 220 pounds, had already faced some tough competition earlier in the year. At a match that would become a turning point in the season for him, Pascoe lost by only two points to Deerfield's Artie Bess, who finished third overall at the state meet. In his preliminary match at state, Pascoe fell 7-1 to David Denne of Mount Carmel, who finished fourth after a loss to Bess later in the meet.
"I was pretty discouraged [after the preliminary match]," Pascoe said. "But I still had this fire in me. I went straight drilling at Huff Hall to go over the mistakes I made so I wouldn't make them again in the second match. I just kept focus."
In his second match, Pascoe matched up against Prospect's Max Triveline, but fell 5-1, thus eliminating him from the state meet.
Yet despite these two defeats, Pascoe remains optimistic about his experience and its effects on him. "I felt my trip was amazing as a whole," Pascoe said. "I'm just looking to improve on my overall wrestling, and [the state meet] taught me a lot. I'll make a few adjustments in my technique so it can suit me better [next year] and so I can find my true style of wrestling."