Quinn Graham had always been a standout on the soccer field. As a high school senior, he was known not only for his goal-scoring ability but for his unwavering dedication to the game. This year, he had set his sights on two prestigious awards that had eluded him in the past; the All-State award and the All-Midwest team award.
The season did not begin in North's favor, however, Quinn did not let up. After scoring the first two goals of the season and playing a hard-fought match, the Vikings ended up losing their first bout in a disappointing outcome. What set Graham apart from the typical goal-scoring striker was his leadership during that match. He made sure to inspire his teammates to give their all on the field by demonstrating it himself every match.
As the season progressed, Quinn's performances continued to impress. His breathtaking goals, pinpoint passes, and tireless work ethic set the standard for his teammates. The community rallied behind him, and every game was like a celebration of the captain's talents.
"
"[Quinn] has been a great player to share the field with. It's been awesome to play and co-captain with him."
— Trey Zakeri, senior co-captain
Quinn's journey to the All-State award was not without its challenges. After a star-striking performance last year, scoring 30+ goals and beating the school record, everyone was certain he would be All-State. Unfortunately, the dream did not come true that year for the striker. He would then set his sights on the award for his next and final Senior season.
The competition was fierce, with many other talented players vying for the same recognition. However, his dedication and extraordinary performances could not be ignored after scoring 41 goals and providing 11 assists. The moment of truth arrived at the post-season banquet, where his name was announced as the recipient of the All-State award. The room erupted in applause, and Quinn's teammates cheered louder than anyone else. It was a moment of pure joy and triumph for him.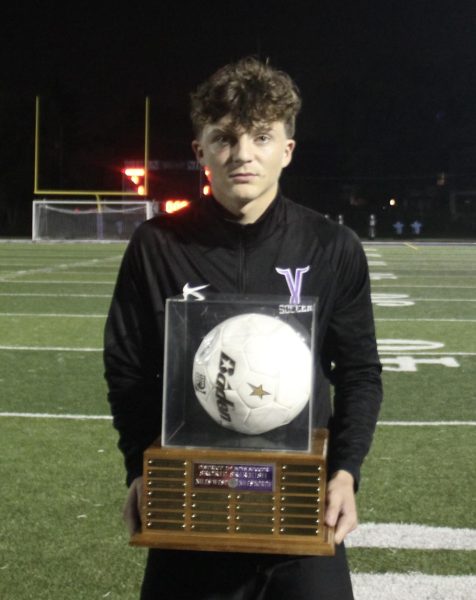 Shortly later, when the news came that Quinn had made the All-Midwest team, it was a moment of sheer euphoria. The honor was a testament to his hard work and skill, and he was immensely proud to represent not just his school but his entire region on the soccer field.
"He's been a great player to share the field with," senior captain Trey Zakeri said. "It's been awesome to play and co-captain with him. Well-deserved awards." 
Quinn's high school soccer journey was coming to a close, but his story had only just begun. His awards were a testament to his talent, but they were also a reminder of the dedication and passion he had poured into the sport. With the All-State and All-Midwest awards in his pocket, Quinn looks to the future, ready to take his soccer career to even greater heights. The young high school player achieved his dreams, and the world of soccer awaited his next chapter.