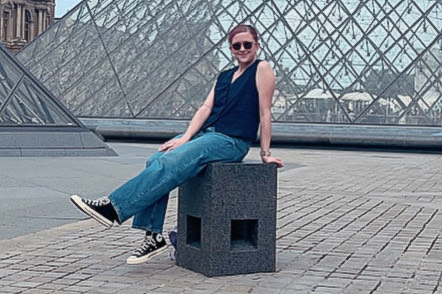 What is your name, department, and what extracurriculars do you support/sponsor? My name is Catherine Nimtz and I teach French at Niles North. I also run French Club and sometimes French Honors Society.
When did you realize you wanted to become a teacher? Well, in high school I wanted to be an elementary education teacher, and then I actually spent some time in a 1st grade class, and I realized I do not want to be an elementary school teacher very quickly. French has always been one of my loves, I love language in general, so I just decided to try out teaching French and I really enjoyed it.
Why did you choose to teach French specifically? When I was growing up we were only offered Spanish and French, so we were randomly selected to start in either French or Spanish 'cause we had to take both. I took French first and I really enjoyed it. Then I took Spanish immediately following it and I felt so lost that I continued with French. Before that, I had a passion for language, inventing languages, learning new words, before I started taking French, so it just kind of snowballed
You also teach at Niles West. How is teaching at West different from teaching at North? Honestly, I don't think that the schools make that much of a difference. I think that every class is an assembly of different personalities and that's what builds that classroom culture. I feel like every class has its own personality and its own sort of vibe. I think that the schools are more similar than students know.
Aside from teaching, how does knowing/speaking French impact your daily life? I mean, I have tons of French speaking friends and I run into French people all of the time in Chicago. For example, we just had a new guy from France move into our apartment building and I was able to communicate with him and give him some recommendations about what's going on in our area. My best friend lives in France, my goddaughter lives in France, and we only communicate in French. So, at this point in my life, I'm surrounded by French constantly and I speak French when I'm not at school all of the time.
Why do you think it is important for people to learn French? Well, I would first say that it is important for people to learn a foreign language regardless of what language that is. It opens you up to lives and experiences beyond your own and it's necessary for all humans. But French in particular is a language that holds a lot of political power, a lot of cultural power, a lot of buying power. I think that it's a language that's going to grow a lot; it's on course to double or triple in global influence between now and 2050.
Have you visited France or Quebec before? What did you see/learn? I've been to France many, many, many times. I've seen a lot of the things that you see in textbooks, things that you see in class, or when you you think of France, but I think the most incredible thing that I've seen in France would be the Mont-Saint-Michel (Mount Saint Michel) which is a UNESCO world heritage site. It's a cathedral built on an island. The tide rises during the day and it becomes inaccessible; people can only enter in the morning and at night. It's a beautiful, old monastery and it kept prisoners during the French Revolution. I really like history. I've been to Quebec, I've been to Montreal as well. I have plans to go to Quebec hopefully soon for snowboarding.
What is your biggest pet peeve as a teacher? One of my biggest pet peeves is students who think that they just can't learn a language. They just can't learn it. Like, they can't do what they need to do to learn it whether it's memorization or, you know, how complicated it can be memorizing verbs and genders of words and things like that in French. Especially since the most important part of our French class at Niles North is just having the courage to speak – not grammar, pronunciation, etc. But I really think it's something that can be done. I really think that students have an innate ability to learn languages, it's part of a natural human experience. Especially since I'm someone who learned French as a completely foreign language; I didn't have family or the environment to help me, just good teachers and work ethic.
What is your biggest pet peeve or mistake as a French speaker or writer? I think that I still get nervous. I still get nervous when I have to do presentations in French, or have to talk in professional environments, or that I know that what I'm going to say is really important, or that the audience is really important. I still get nervous.
If you could have any other stable job, what would it be? I would love to be a graphic designer. I love art, I love creating, I think that marketing and strategy is so interesting and looking at how users interact with advertisements and things like that. I love jobs where I have a chance to be creative.
What is a quote you live by, French or otherwise? I would say "Fluctuat nec mergitur." It's the motto of the city of Paris and it means "She (referring to a boat) is tossed by the waves, but doesn't sink." This quote has helped me in many difficult times in my life and also reminds me of a city I have so much love for!