While the school has chosen to revamp classrooms with promising new furniture, many students say that this update has caused them nothing but grief.
The sleek wooden design of these desks incorporates a mid-century modern vibe to the classroom that students don't usually see. However, the lack of color is bleak and tiring. The problem, however, isn't a mere oversight of style.
"They're not as good as you'd expect them to be," one sophomore said. "When they were talking about it, it was really hyped up, but it wasn't what you'd expect it to be."
So, what is it about these updated desks that so irks the students of Niles North? Is it the unnecessary space that these clunky excuses of furniture take up? Is it the fact that these desks can comfortably fit only 2 students? Is it the constant wheel movement of these desks, despite being locked? The most criminal offense has to be the whiteboards hooked onto the ends. 
The horrors of these whiteboards manifest in numerous ways. These whiteboards do not stay hooked to the table. One brush past a table almost always results in a whiteboard falling to the floor, causing a ruckus. Moving the tables around results in a whiteboard falling to the floor. Bumping into the tables, even lightly, results in a whiteboard falling to the floor. 
In these scenarios, the logical thing to do would be to pick the whiteboard up and hang it back on the table. While easy to drop, hanging the whiteboards back on their hooks requires fleeting patience and precious time.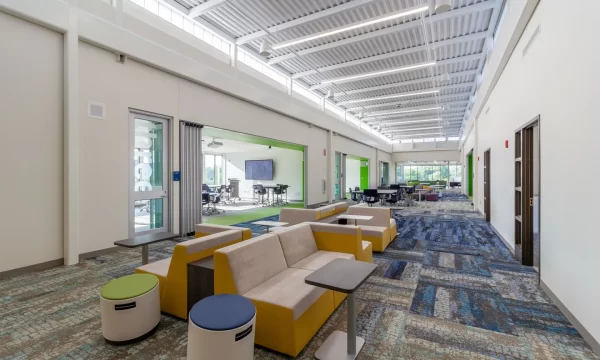 Another problem many students face with the new furniture is the rolling chairs that accompany these desks. It is a daily occurrence to see students fall out of these chairs and onto the hard tile floors. They are stiff, and many students complain about their uncomfortable nature.
It should be recognized that these desks and chairs were put in place to update the old desks that students also hated. Students complained that the desks didn't have enough space to lay their schoolwork down. The new desks solve this issue, and that is the only issue they solve.
Last year, a couple of these desks and chairs were put into classrooms, and students would test them out and give feedback on their learning experience. While it is ultimately the school's decision on whether to put new furniture into classrooms, it is up to us students to accurately portray the student body's opinion. The school should have done a better job of surveying a broader sample of students. Either way, this furniture update has also instilled an update of rage in the student body, and we aren't even halfway through the first semester.
How do you feel about the new desks?
Sorry, there was an error loading this poll.