Summer is coming to an end near the Chicagoland area. It's time for sweaters, pumpkin spice, and fun fall activities! 
Debatably the most inexpensive yet fall mood-inducing activity catered to anyone would be watching Halloween/fall classic movies. Movies such as Hocus Pocus, Coraline, and Corpse Bride can all be found on streaming platforms in the comfort of your own home. 
Peak harvest time for apples generally starts in the September month. Local apple-picking locations such as Apple Holler, Goberts, and Didier farms offer an abundance of fun activities such as creepy haunted houses, pony rides, corn and hay mazes, carnival rides, and such delight delivered to all the families who visit. There are so many yummy treats to be made from all the apples you pick. 
There are approximately 11 drive-in theaters in Illinois, one being in Chicago! ChiTown movies provide a safe and comfortable experience for every customer. Nearing the end of September, favorite fall/horror movies will be featured on the screen! This is a fun and unique way to experience your favorite fall-featured movies! Be sure to acquire your tickets for all your friends and family before the parking spaces are all taken. 
If you enjoy hands-on activities, pumpkin carving might be perfect for you. As the fall time gets closer, pumpkins can be found everywhere, even in local grocery stores such as Jewel Osco. Pumpkin carving is a fun activity to be enjoyed with your friends and family. Pinterest has thousands of cute ideas, basic or advanced. After you are finished, you can show your pumpkin off as fall decor on your outside porch. 
Six Flags Great America is by far one of Illinois' best amusement parks. Freight Fest is a Halloween-oriented event with haunted attractions, roller coasters in the dark, and live entertainment from 'The Scarers'. If you are up to a good scare, Freight Fest is just the place to go. For further information and purchasing of tickets, visit SixFlags.com.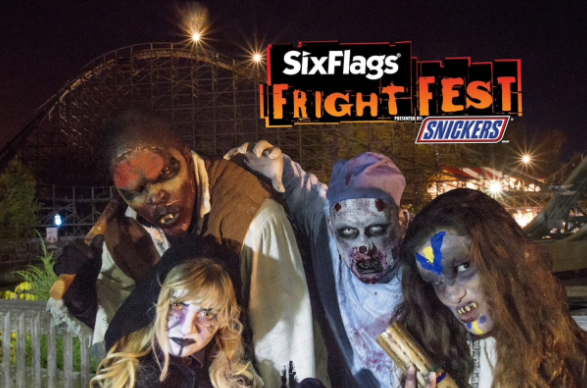 At Chicago Botanic Gardens a series of intricate jack-o-lanterns are ventured throughout the gardens. The Night of 1,000 Jack-o-lanterns is back. Along the path, you will find costumed entertainers and live carving demonstrations, as well as seasonal light fare and drinks available for purchase. To capture the fun of this event, visit the Botanic Gardens website. 
The fall seasons offer a wide variety of activities that cater to all ages and interests. There are so many attractions and activities to enjoy the fall with freinds and family.