The 2023-24 NHL regular season will be starting on Oct. 10, 2023. This season is set to be a big one, and especially for the Chicago Blackhawks, after several huge offseason moves during the summer. After Las Vegas's successful victory in last year's playoffs, the team is looking to keep going forward, while its many competitors are looking forward to their own success. So, let's analyze this upcoming season.
Oct. 10 will feature three games, one of them putting the Vegas Golden Knights against their northwestern rival, the Seattle Kraken, at 9:30 pm CT. Before the game, the Knights will ceremoniously raise their last year's championship banner, the first in their short history. The other games on the opening day include Tampa Bay vs. Nashville at 4:30 pm CT and Chicago's own Blackhawks against Pittsburgh at 7 pm CT.
The Blackhawks, being Niles North's hometown team, are looking forward to a very interesting season. After the initial celebration for Hawks fans because of the club's amazing draft luck with Connor Bedard, the team has focused largely, as was expected, on centering the roster around the young star. For context, in the 2023 NHL Draft, the Blackhawks had the incredible privilege of selecting the #1 overall pick, Connor Bedard.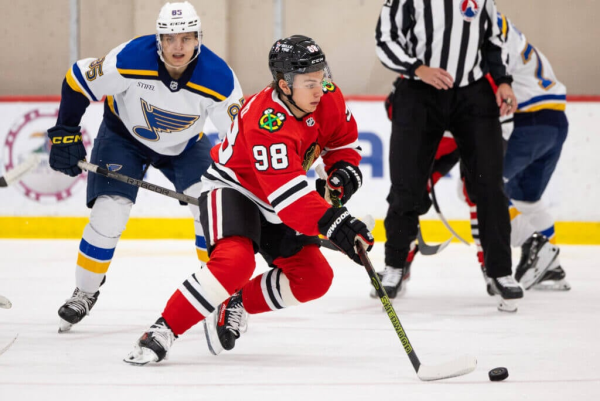 The youngster is expected to be a generational talent, worthy of praise that was last heard only for legends like Connor McDavid, Patrick Kane, Sidney Crosby, etc. Last week, Bedard scored a hat trick in his first game as a Blackhawk prospect after a busy summer of heavy training. Many reporters and fans alike have voiced that this start to the season only further proves Bedard's worth and great potential as the future face of the Blackhawks organization.
After acquiring Bedard, Chicago spent the rest of the offseason building up a large veteran core to guide him, similar to how other teams have behaved in the same situation. However, as compared to Ovechkin or Kane and their respective teams' approach to letting them shine as stars, Bedard is predicted to be unlike any of them, with many experts ranking him on par with Wayne Gretzky himself.
Other teams have also had some strong offseasons. The Red Wings secured Alex DeBrincat, a former Blackhawk of several years, actually, and certainly a rising star. General manager Steve Yzerman likely rightly saw the potential in "the Cat" and pounced, finally giving Dylan Larkin a good right side to play alongside with. Pittsburgh, Ottawa, and Los Angeles followed suit, trading for Erik Karlsson, Vladimir Tarasenko, and Pierre-Luc Dubois, respectively. All of these players are solid and will probably contribute greatly to their teams' prospective futures.
It will be interesting to see how these moves and others from around the league, will contribute to this upcoming general season and Stanley Cup Playoffs alike. With stronger teams getting weaker and vice versa, the Blackhawks are on the way to what will hopefully be a successful future. Let's see what this next season brings, and hope that Chicago will be on the side of the winners.