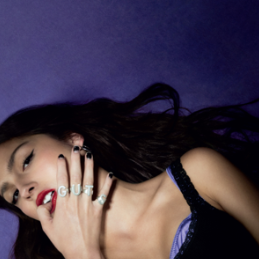 On Sep. 8, former Disney Channel star Olivia Rodrigo released her sophomore album, 'GUTS', following her debut album, 'SOUR'. 'SOUR' follows Rodrigo's heartbreak, which broke our hearts almost as much as hers. 'GUTS' gives listeners a different look, going more in depth with figuring out who Olivia wants to be at this point in her life, now at 20 years old. 
The award winner opens her album with 'all american bitch', a pop-rock sounding song that Rodrigo says was inspired by punk bands that she had grown up listening to. The majority of the album will follow suit with this type of 90s punk rock vibes, which Olivia says has inspired her since she was a young girl, this genre of music fits her so well, showing off everything that she's capable of.
'bad idea right?' gives us an even stronger start to the beginning of this album, it's already fitting the theme of feeling young and old at the same time and making decisions that she hadn't thought through, shown especially through the lyrics when she says 'Oh yes I know that he's my ex/ Can't two people reconnect? I only see him as a friend/The biggest lie I ever said/I just tripped and fell into his bed'. Inferring that she's telling people she thinks of this boy as "just a friend", but in reality she thinks of him as more. 
Like it was said before, 'GUTS' gives us a different look, since Olivia is now dealing with all the new responsibilities and struggles as a new star, still rising even higher to fame, this shows frequently in the third track, 'vampire' which goes in depth about one of Rodrigo's past relationships, talking about how naive she was was for allowing a boy to lie to her, manipulate her and all in all just use her.
My favorite song on this album has to be 'lacy', which is sort of a heartfelt song filled with envy and longing, talking lots about how she always seems to compare herself to an intimidating character called "Lacy". Anyone from anywhere can relate to this song, which is why I like it so much because I'm sure that everyone has dealt with comparing themselves to someone else at one point or another in their life, and this song feels quite similar to 'jealousy, jealousy', one of my favorite songs from the preceding album, 'SOUR'. 
Overall, I really enjoyed listening to this album, it reminded me of some of the music artists that I used to listen to when I was younger. I think that this album showed the world everything that Olivia can do.