Teenage Mutant Ninja Turtles: Mutant Mayhem featuring Jackie Chan, John Cena, Seth Rogen, Post Malone, and Ice Cube is a PG movie that came out in theaters on Aug 2. Since then, it seems it has only received positive reviews, mostly from a more teenage audience, but this is no accident. Though this movie is rated for children, this movie was in no way made specifically for little toddlers who came to see the funny talking cartoon creatures. One look at the titular turtles and it's clear that these turtles represent today's teens with their constant slang and allusions, with the movie's content pushing the line for what can be considered a "PG" movie.
Mutant Mayhem's plot is rather simple: The quartet of mutants are tired of living in the sewers and go against their dad, Master Splinter (Jackie Chan), and his ill will towards humans, and try to fit in with the humans. They would go on to befriend an aspiring Black high school journalist, April O'Neil, who becomes the first human to accept and learn of the turtles and their story. Later, they make friends with the Mutant Gang run by Superfly (Ice Cube), a group of villainous mutants (not turtles), with a similar story to the turtles, but with a goal to kill all humans and replace them with mutants. This leads to mass hijinx, eventually causing the entire Mutant Gang to join the turtles in accepting humans, except Superfly, who wishes to continue his plans, of which he has the resources to do so. Now, the turtles, April, the turned Mutant Gang members, and even Splinter have to stop Superfly before he can destroy the world's perception of mutants, or worse, all human life.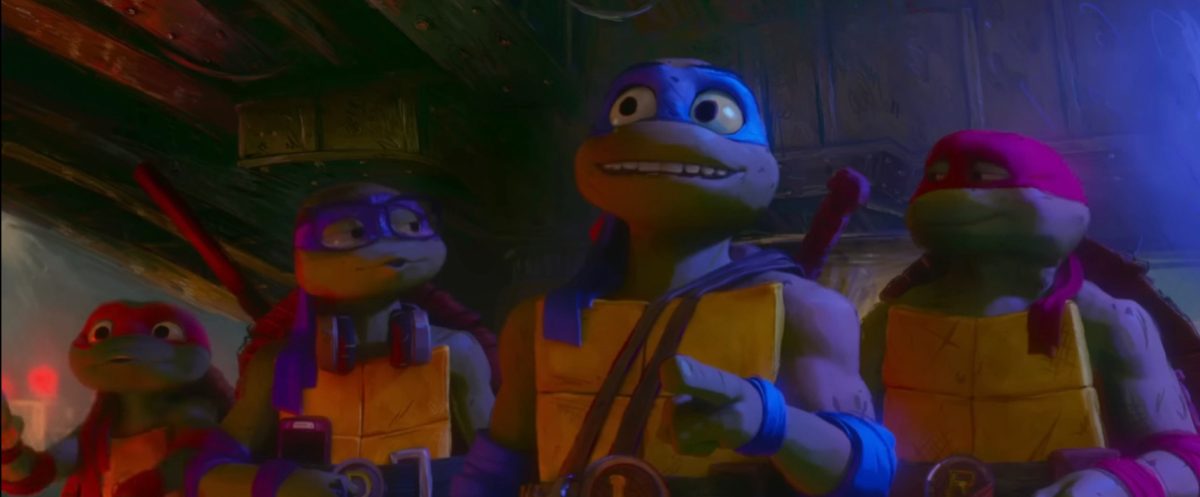 This plot, like most PG Disney movies, is digestible and meaningful. The turtles and Splinter are in an enclosed and limited environment, but partly due to their access to mobile phones, the turtles begin to question their paternal authority and wonder if humans are truly worth hating and hiding from. Their love for humans and their personal efforts to fit in are highlighted by their obsession with junk food, their brotherhood dynamics, and their constant use of slang, including words like "yurt" (yes), "rizz" (charisma), and of course, cowabunga. This makes it obvious that the movie is set in a time near or in 2023, as there are many references to TikTok (post pandemic) and modern slang words like "sus" (suspicious/suspect) are very common among mutants and humans alike. While most TMNT productions focus on the "Mutant" or "Ninja" aspect of the turtles, this movie does everything it can, from the informal dialogue, to the characterization, and even the animation style to emphasize the "Teenage" instead.
For anyone seeing the movie, there are three things that people will usually take note of: the turtles being overly teen-like, the movie's unique animation style, and the constant allusions and franchise references. The animation style is akin to that of the Spider-Verse series of movies, as it is not meant to be realistic but rather stylized. While the Spider-Verse movies' animation style is an homage to comic book art, Mutant Mayhem's animation is an homage to notebook illustrations one might do in school. While the animation style does a lot to further emphasize the teenage aspect of the turtles, it can sometimes be off putting due to it making normal people look deformed or highly asymmetrical, even when those humans aren't mutant.
As for the allusions, they are truly an entertaining aspect of the movie that anyone, from age 9 to 90, can enjoy. There are easter eggs and references to Nickelodeon shows like Spongebob Squarepants and Hey Arnold! and animes like Attack on Titan and My Hero Academia. Other movies are also referenced, including Ferris Bueller's Day Off, Avengers: Endgame, and even some characters in the movie get compared to Megamind, Remy from Ratatouille, and even Shrek. Ice Cube's character Superfly even starts singing Ice-T's "6 'n the mornin'" and famous YouTuber Jimmy "MrBeast" Donaldson makes a surprise cameo as a human bystander. There are so many references in this movie that make it, despite being a stylized work of fiction, feel much more real, especially in its dialogue. In a world with no TMNT media, but media of literally everything else, it makes complete sense why some humans would say the turtles look like "little Shreks."
"The animation style is definitely more different, more of an oddity. Like Spiderman: Into the Spiderverse," junior Neo Balogo said "They are 2-D art styles that form 3-D looking ones like Netflix's Klaus. I thought the references were awesome because it shows that the director knew exactly what the audience was asking for and what generation this movie is supposed to appeal to. Because they are teenagers, they made sure to add in a bunch of teenage references and also [casted] relevant people like Jackie Chan, John Cena, and Seth Rogen. They appeal to us as teenagers; they really nailed it and made it more interesting. Also, pop culture references, that's part of this whole thing. This movie did a really good job. There's a lot of things going on as teenagers…things that shape the way you think of the world, even the turtles.
Teenage Mutant Ninja Turtles: Mutant Mayhem is a perfect watch for anybody of any age and any relation to the titular heroes. If you are a diehard fan, it's a fun interpretation of the classic story where you finally get to see the turtles leave the sewers in search of a better, more human life. For the casual moviegoer, it's a good watch that keeps you interested with the unique animation and constant pop culture references. And for parents, it's a good way to spend time with your kid as they watch and laugh at the teens on screen. Unlike movies like Oppenheimer, you don't need any major knowledge of the movie before stepping into the theater and enjoying it, you just need to know who the characters are. In fact, with all the famous actors and allusions, it makes the movie so much more unexpectedly entertaining.