To many of today's teens and children, the word "genesis" may remind them of the car company, the Bible, or perhaps mean nothing at all. But to many progressive rock fans, '80s music lovers, and even some of the Niles North staff, the name Genesis represents an era of musical transformation. It reminds them of bouncy pop beats that one could jam to for days on end, and even a few people that have had a complicated history together. Nonetheless, all of these things meant one thing for today's older generation: good music, the likes of Genesis and its members, practically unheard of today.Genesis was a prog-rock band formed in 1967 in England by singer Peter Gabriel, keyboardist Tony Banks, and bass guitarist Mike Rutherford. Later, their soon-to-be most famous member and lead singer, Phil Collins, would join the band, who some may know for his solo career or for his work as the singer on the soundtrack of Tarzan (1999). The band would start off relatively small, experimenting with prog rock albums, like Selling England by the Pound, akin to music from bands like Yes or King Crimson. These songs were very "proggy" as they included elements of prog music like odd time signatures and switches between them. The stories of the songs were usually vaguely sung fairytale-esque progressing stories (hence the name "prog"), taking place in England, another aspect of prog music.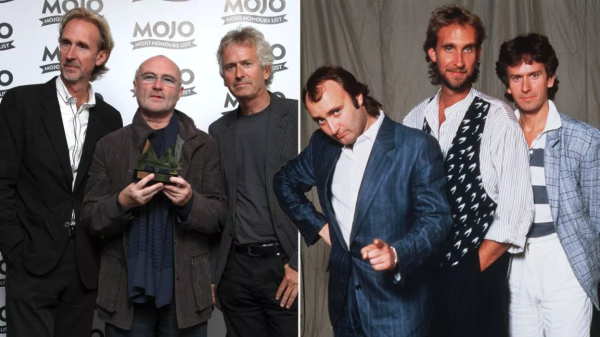 "The soundtrack from Tarzan, as a mom, is amazing," physical education teacher Ms. "VJ" Vanderjeugdt said. "I'm an '80s late '70s girl. I first heard that band and their music in the early '80s and loved it. The music had a ring to it, it was very poppy, great beat… Same thing when I found out that it was Phil Collins and Peter Gabriel. People know who Phil Collins is… And then, when you look up 'History of Phil Collins,' [you say], 'Oh my God! That was him with Genesis?'Abacab (1981) is probably my favorite [song and album]."
The year 1980 would mark some of Genesis' best work in pop, debatably throughout their entire career. This decade would go on to define what people remember Genesis for: pop music. The release of their album Duke would be a turning point, as its release began a stream of massive nationwide and worldwide hits for years to come. Duke dealt with themes of intense love, delusion, yearning, and depression. If you want a love song to make you cry, you listen to "Please Don't Ask" or "Heathaze." If you want a love song that's intense and makes you dance, you listen to "Turn it on Again" or "Misunderstanding," both of which became the album's most famous hits. If you want a love song that's emotional and orchestral, you listen to "Behind the Lines" or "Duke's Travels," the list goes on. Everything in this album is absolutely perfect, from the rocking guitars, to the loud and powerful keyboards, to the intense singing and drumming from Phil Collins. This, without a doubt in my mind, is where Genesis reaches their musical peak. If you want to hear how Genesis handles both prog and pop at the same time, with an orchestral vibe, then Duke is what you want to hear. And while Duke is my personal favorite album of theirs, it is important to mention their most popular album, Invisible Touch (1986).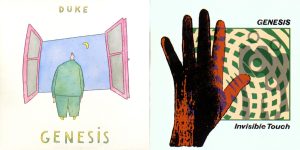 Invisible Touch is definitely Genesis' most poppy album, and is usually the one people remember when they think of the band, with hits like "Throwing It All Away," "Invisible Touch," and "In Too Deep." If you ask your teacher to name the first Genesis song they can think of, it's probably on Invisible Touch. My personal favorite of the album is "Land of Confusion," another hit, this time about the (vaguely explained) downfall of today's society and the hope of a better future. Though the song is pretty vague and is definitely a change in Genesis' regular themes in music, it is an absolute head banger that is made to resonate with anyone of any political affiliation, and it does that well. The music video for it is also a personal favorite, featuring puppets of (then relevant) celebrities and characters, like Ronald Reagan, Mikhail Gorbachev, Prince, and even Spock from Star Trek. 
An overwhelmingly positive review of Genesis, however, would not be complete without at least a brief overview of the solo careers of singers Phil Collins and Peter Gabriel. If you want to see the comparisons between Collins' work on Genesis and his solo work, listen to "Behind the Lines." First, the prog-pop one on Duke, and then the faster, disco funk version on Collins' debut album Face Value. Peter Gabriel's work is also wonderful, and if you want to hear his best work, I recommend his biggest hits like "Solsbury Hill" and "Sledgehammer" If you love Genesis and you love their vocal masterminds, but want to hear more than just their voices, then their solo careers are just the right place to start listening, Steve Hackett included.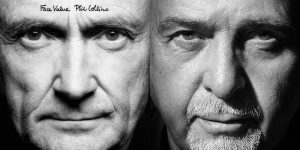 "I am a child of the '90s… My connection through Genesis is more through the former band members themselves," social studies teacher Aaron Minkus said. "I think Genesis' greatest contribution to music is that it gave us Phil Collins and Peter Gabriel. [They] both have tremendous albums and great hits [individually] for the '80s. I often think that the band gave us tremendous pop hits when Peter Gabriel left [in 1975]. Their solo careers sounded completely and totally different from anything they did in Genesis. 'Solsbury Hill,' 'Sledgehammer…' Those are unique sounds that have withstood the test of time."
Genesis, though an overlooked underdog of prog-rock and pop-rock, must not be forgotten for their incredible hits of the '80s that some of Niles North's staff remember. Even today, some of their hits like "Land of Confusion" and "That's All" can still be heard on Chicago's radio waves, showing how their music has influenced America and the world. For those interested in Genesis' best and most famous albums, I highly recommend Duke and Invisible Touch. But for those just wanting to hear their best hits, I recommend Genesis' most recent (greatest hits) album The Last Domino?, released just after their most recent tour of the same name. Many of my favorite songs are in this album, including some I haven't mentioned, such as "Home by the Sea" and "Second Home by the Sea," "Firth of Fifth" from the group's prog years, and Ms. VJs favorite song, "Abacab." To know what '80s music one might be missing out on, Genesis and the works of its members is a fantastic place to start for anyone born in any decade.