Let's show some spirit for our Girl Viking teams
If you are in the fine arts, you know that on-stage rush. A huge audience laughs at your jokes, cheers for your solo, and gives you a standing ovation at the curtain call. This support feels completely intoxicating and euphoric compared to the empty crowd you had been practicing in front of before. The audience boosts your confidence and energy. 
The feeling is the same for athletes. Home-field advantage is a real thing. Home games draw crowds of supporters of the team. The adrenaline of being in front of a crowd can change everything. But if you are an athlete at North, do you always feel that?
It seems like the number of game spectators has decreased over the years, especially for girls' teams, since COVID. We see huge crowds for home football games, Boys' basketball games, and some Boys' soccer games. Boys' basketball and soccer had great seasons last year, but would our other teams benefit from some love too?
Social facilitation is the psychological concept that we tend to perform better when we are being watched. If we, as a Niles North community, decided to attend more games to support our student-athletes, we could see a positive increase in athletic success. 
"
I've seen crowds change games. You know, if you get a big crowd there, it can change a game
— Brett Bildstein, Athletic Director
"I've seen crowds change games. You know, if you get a big crowd there, it can change a game," Athletic Director Brett Bildstein said. "Badminton this year. We had a decent crowd for a badminton match and it was the last match of the season. If you've ever been to a Badminton match, it's actually supposed to be kind of quiet. You're supposed to make less noise than even tennis. [But] we had people there. The opponent actually kind of folded because they weren't used to having anybody at a badminton match."
Sports aren't everybody's thing, and that's okay. But if you are an athlete, a good way to demonstrate support and sportsmanship is to attend the games of other sports, especially ones that tend to garner less crowds. Try supporting sports like swimming, track, golf, or even bass fishing.
Girls Basketball set a good example last season. The whole team showed up at a volleyball game because like their sign says, girls sports support girls sports. If each team at our school made it an event to attend at least one game per season for another sport, we could be the support our teams need.
It's nice when staff members show up to school sporting events as well. The Special Ed department makes it a priority to attend at least one game per season as a group.
As athletes, let's support our fellow athletes by attending their games and cheering them on. As a community, let's boost participation by planting roots for our girls in sports. Let's give our athletes that on-stage rush. 
Leave a Comment
About the Contributor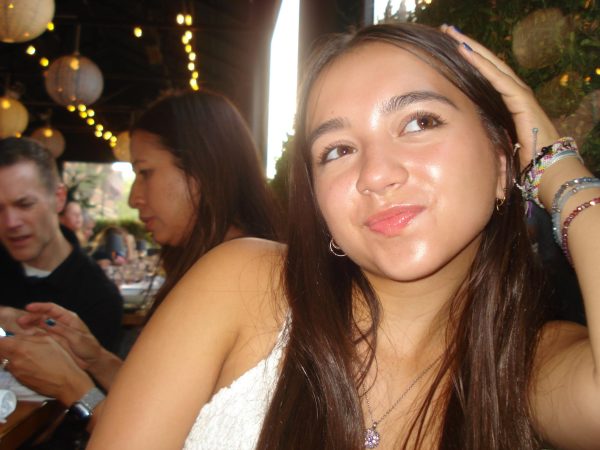 Penelope Roewe, Managing Editor & Opinion Editor
Penelope is a junior and this is her third year on NSN, serving as Managing Editor and the Opinions and Photos editor. She loves to express her opinions...