A Skokie star is born: NN junior Andrea Hernandez performs on SNL alongside Karol G, Uniting Voices Chicago
On April 15, Niles North junior Andrea Hernandez was prominently featured on SNL's renowned New York stage in a collaborative performance with Colombian artist Karol G and Chicago-based performing arts group Uniting Voices Chicago.
Throughout her high school career, Hernandez has actively maintained involvement in Niles North's orchestra program as a violin player and participated in this year's school musical for the first time, demonstrating her strong passion for music. She first discovered her talent for singing at a young age and has gone on to perform in various capacities ever since, including her church's weekly Sunday services and areas around her local community.
"My passion for music really started when I was just a kid," Hernandez said. "I perform at churches and ever since I was two or three years old, my mom was like, 'She likes to sing to herself,' so she put me up on stage and I would sing. Since then, it's just been ongoing. I sing at church every Sunday, I sing at events, I started my own band. Then I joined choir in middle school and it's only grown from there."
During her freshman year, Hernandez successfully auditioned to join the premier-level ensemble of Uniting Voices Chicago, a Chicago-based performing arts group that empowers and unites youth from diverse backgrounds to find their voice and celebrate their common humanity through music. According to Hernandez, acclaimed United Voices Chicago conductor and arranger Josephine Lee managed to connect with one of Karol G's producers and secure a select 13 of the choir's one hundred singers a coveted spot on SNL's stage alongside the famed artist.
"My conductors were the ones who chose who would be the best out of the one hundred kids [to perform on SNL]," Hernandez said. "They could only take so many people, only 13 kids. They wanted mostly Hispanics, since we don't have that many Hispanics in our choir. There wasn't necessarily an audition, it was just based on how the conductors knew us personally and how they knew our work ethic."
During the set, Karol G sang Mientras Me Curo Del Cora (While I Heal from the Heart) and Tus Gafitas (Your Glasses) from her record-breaking fourth album Mañana Será Bonito (Tomorrow Will be Beautiful), while accompanied by Uniting Voices Chicago's harmonic rendition of Bob Marley's iconic Don't Worry, Be Happy. The performance featured unique elements such as a black convertible, bright neon lights and smoke that filled the stage, which created a neo-rock atmosphere that appropriately aligned with the melody and rhythm of the music.
The show also marked a significant milestone as host Ana de Armas and musical performer Karol G represented the first pair of Latinas to serve in their respective roles on the same SNL episode. According to Hernandez, this achievement constituted a major step forward toward greater Hispanic representation in the entertainment industry and resonated strongly with her own Colombian roots.
"[Karol G and I] are both Colombian, so I was like, wow, to see her get on a stage like that and perform her music and get this far, it really inspired me," Hernandez said. "I'm gonna major in music, that's already set for me. So I took her words to heart because as she was singing, I didn't really need to act up there. I just kind of vibed with her and we made eye contact. It just felt so nice to be represented because sometimes, there isn't that much representation, especially in music. So it felt really fulfilling."
"
I didn't really need to act up there. I just kind of vibed with her [Karol G] and we made eye contact. It just felt so nice to be represented because sometimes, there isn't that much representation, especially in music. So it felt really fulfilling.
— Niles North junior Andrea Hernandez
However, despite the group's collective anticipation leading up to the performance, Hernandez admits the ensemble was forced to overcome a significant last-minute setback shortly before their scheduled production.
"Opportunities like this don't come often and they can be quickly taken away from you," Hernandez said. "We had a close call where some of us were gonna be taken out last-minute. However, Karol G also decided last-minute to put us all back in because she saw that we as a community were stronger together. It just shows how the music industry really is. So I'm taking that to your heart and I learned through that that it's not as easy as some people may think. But hopefully, I'll be out there on my own one day."
Looking back, Hernandez chooses to reflect on her experience with a profound sense of gratitude and appreciation for the unique once-in-a-lifetime opportunity. The performance featured a plethora of both heartwarming and exhilarating moments exchanged between Karol G and the members of Uniting Voices Chicago, including personal memories that Hernandez says she will continue to cherish. As she aspires toward the future prospect of a degree and career in the music industry, she hopes to use the life lessons she learned from her nationally televised performance to better guide her decision-making process.
Click on the respective links below to access the videos on Saturday Night Live's Youtube channel to Karol G and Uniting Voices Chicago's full performances of Mientras Me Curo Del Cora and Tus Gafitas.
Leave a Comment
About the Contributor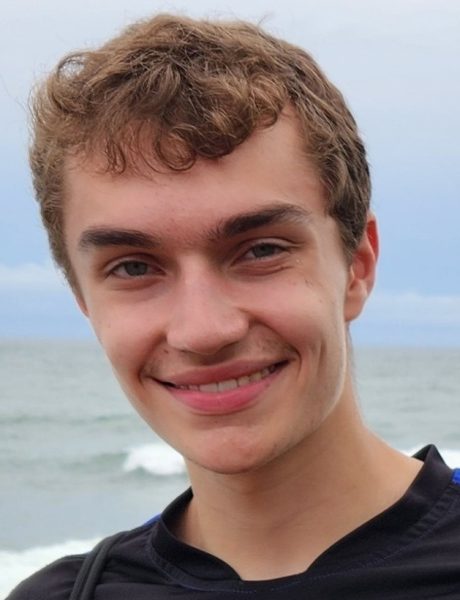 Aiden Stanciu, Editor-in-Chief & News Editor
Aiden is a senior who serves as the Editor-in-Chief and News Editor of North Star News. Since first joining the staff during his freshman year, he has...