Niles North eSports team capture 3rd place trophy at State
On March 4, 2023, the Niles North eSports team finished 3rd at the IHSA State finals after competing against eighty-two other teams.
The team traveled to Belong Gaming Arena in Schaumburg, Illinois to compete. The layout consisted of computers being aligned in rows. Everyone worked with the same setup, such as similar mice, keyboards, and microphones. Rocket League, in its simplest form, is soccer with cars. Each team is required to have three players participating. Both teams have 5 minutes to score as many goals as they can in a best-of-5 series. The objective of the game is to advance the ball down the field and score goals in the opponent's net. 
Throughout the event, North won with three blowouts. During their Play-in Top 32 game, Niles North won a whopping 3-0 against Unit 5 School District. In their Top 16 game, Niles North won against Prospect, scoring 3-0 once again. After two great wins already, Niles North won 3-0 against Limestone in the Quarterfinals.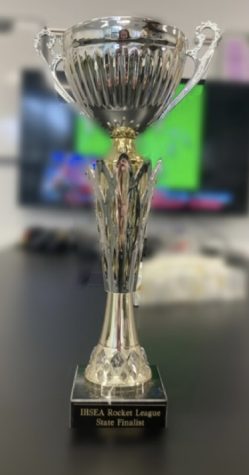 The Bronze Match Finals against Oswego was one crazy close game. Niles North was able to secure the 3-2 game win in order to move on to game 5. North was able to block a few scoring goals in order to secure a 1-0 win in game 5. The stakes were high. 
Unfortunately, North lost their final match against Leyden High school. Leyden continued on to play against Yorkville to compete in the Gold Match. Leyden became the overall first-place winner of the tournament. 
During their regular season, the team didn't have much traveling to do. Most of their communication with other teams and outside resources was not done in person. This transition to playing in a new atmosphere with people they had never met in person was quite interesting. 
"It was our first time going to an actual event for this because this actually started during COVID," eSports coach Damani Brown said. "A lot of the communication we had with other schools was just online; even our tournaments were online." 
Despite this adjustment, the players played with determination and succeeded in placing third out of eighty-two teams.  The team was thrilled with the results. This accomplishment proved that their hard work and good effort paid off. 
"Getting third out of approximately ninety teams, yeah it felt really good," freshman Andrew Selig said. "Knowing that all this time that I've played Rocket League throughout my life has worked up to something felt really nice." 
The team looks to constantly improve in order to compete for IHSA State sectionals on April 22. In the sectional, they will take on tough teams that they've never seen but will try their best to come out on top. If they win, they will advance to the State finals on April 29. The team hopes they'll receive support from their peers as they move forward with their season.
Leave a Comment
About the Contributor
Emily Mathee, Reporter
Emily is currently a freshman at Niles North. This is her first year writing for NSN.