Kali Uchis flies listeners to the moon and beyond with new LP, 'Red Moon in Venus'
As someone who is not particularly akin to astrology, I certainly felt Kali Uchis' embodiment of passion and femininity in her new LP, Red Moon in Venus, which she dropped on Mar. 3. 
Colombian-American, singer-songwriter Kali Uchis released her first mix tape, Drunken Babble, in 2012. In 2017, she was featured on Tyler the Creators' See You Again, and in 2020, she released Telepatía, which became a hit on the online platform, TikTok. Ever since her rise to fame, she became an icon and a known "It Girl."  She exudes femininity and her music reflects that which is a staple to her brand.
The album opens with In My Garden… which is essentially a voice note of Kali's voice with the embellishment of a flourishing garden and a piano synth which contours the beat of the song. 
The following song is titled I Wish You Roses which includes the use of a subtle hi-hat and soft drums.  Kali's voice is so distinct which is something a lot of her listeners, including me, enjoy. 
I Wish You Roses talks about the unexpected loss of a lover and grieving someone who is still alive. It highlights how although that person might be gone in your life romantically, they will always hold a special place in your heart: "My love's deep as the ocean/Don't you drown on me/Just know any love I gave you/Is forever yours to keep". 
In an interview with the Rolling Stone magazine, she reveals the true meaning of I Wish You Roses.  
"This song is about being able to release people with love," Uchis said. "It could be a friend, a lover, or someone else, but the point is to celebrate releasing people from your life without being resentful or bitter."
However, the ending of the song insinuates that this former partner will come back to her, which alludes to her bitterness about the situation: "You're gonna want me bad/You know we can't do that." 
As a listener, this song is relatable; you wish your former partner the best, but there is also some anger towards them. I think the main reason why Uchis' music is popular is due to her lyrics. Many people want to listen more because they can empathize with her. 
The next song is Worth the Wait, which features Omar Apollo. The two of their voices blend together seamlessly, creating a fun, sultry song. 
The next song, Moonlight, has a catchy bassline that pairs perfectly with her voice. In fact, it's been making its rounds on TikTok, in which users entail their appearance and overall look before listening to Kali, and after listening to her. 
The album ends with Happy Now. I'll admit that I'm not really a fan of this song due to its simplistic lyrics.
Uchis sings about wanting to get rid of her resentment and bitterness for her ex: "Can we be happy now?/I wanna be happy now/Can we be happy now?". 
I wish that she had a better closing to the album, such as perhaps a voice note or something similar to the beginning of the album. 
Although I'm not really a big fan of Happy Now, it's undeniable that the production of this album was fantastic. Every single musical instrument was showcased in a balanced fashion, with each one never overpowering the other. Kali's voice melts on top of the background which makes her album an easy listen. 
All in all, Uchis did a great job encompassing "the divine feminine" in her album. It's a great addition to her already impressive discography which sounds like nothing I've ever heard before at all and is uniquely her. 
For all the Kali Uchis fans, consider buying tickets to her concerts in Chicago which are on May 15 and May 16 in Byline Bank Ballroom in Chicago. If you haven't listened to her album yet, I highly recommend that you check it out. 
Leave a Comment
About the Contributor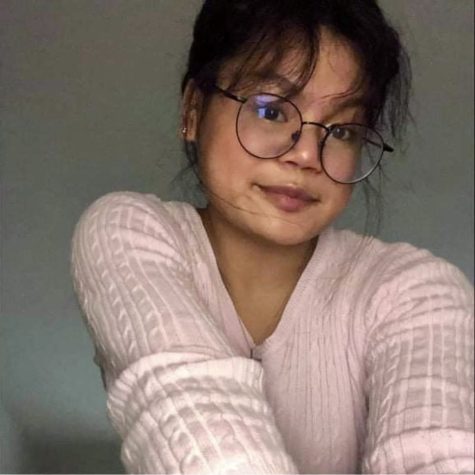 Jana Guerra, Reporter
Jana Guerra is a senior at Niles North. In her free time, she enjoys playing the piano and violin, driving in the city, and listening to horror podcasts.