Jade Lajeune, Senior
What is your name and grade? Jade Lajeune, senior.
What song describes you? I Want It All from High School Musical 3. Because it's such a very aspirational song and I love Sharpay, I love her drive. I stand by her not being the villain of the whole movie. I love that song and I think it's a good representation. 
What's your passion? I have a lot of passions. It's a loaded question. Just I guess performing arts, I love to dance. So that's the saying love to act like being onstage whatever form it is, like playing music. Or like socializing, making people happy. 
How long have you been dancing? I've been dancing since I was two. 15 years. 
Why do you think why do you like dancing so much? Because it's so liberating. You get to choose how you move and you let music lake over your body or even just like nothing, like no music. You can even just like make choices out of your own internal rhythm. And also, it's just really fun. And especially if like you're good at something. It's fun to watch that talent or skill grow and be better. 
What's something that you're proud of? I'm proud of being the assistant fight coordinator [of She Kills Monsters] like doing something new, that's like, not out of my comfort zone but out of my element where I normally am or like, taking the skills I have and putting it into a different area. That was really fun and rewarding to be a part of and kind of being a swing and taking on the responsibility for when you like you're needed. It's a rewarding experience. 
Who is your role model? Why? My family like my parents, but they're role models in the sense of like my character. I want to be like my parents, have their dedication… I'm a senior, so I try to be a role model for others. But I guess if we're going [to talk] celebrity role models, I love Angela Bassett. She's my role model. Can't think of her name right now. But she's a lead in Hidden Figures. Obviously, Zendaya, my queen, because I love her so much. I feel like she's everyone's role model. I just have like, a lot of people I look up to. I look up to [Chris] Minor and [Megan] Baskin. I look up to all the other theatre seniors. I look up to my dance company members. And I hope that they look up to me as well and see me as a role model.
Where do you see yourself in five years? I hope that I've done at least 10 shows in five years. That seems very possible to do like 10 shows. I hope that I've decided a little bit more what I want to do but I also still get time to dance. Hopefully, [do] more commercial dance, which is basically, instead of being on a company, you [do] the Super Bowl like Rihanna and [her] dancers. Those are commercial dancers, they're for hire, they do performances like that. So maybe stuff like that. I don't know what's after. Maybe law school. We'll see how that goes.
Where is your favorite place in the school? It's changed a couple of times. But at the beginning of the year, my favorite place was the college Resource Center because of Ms. G-S and Ms. Lee. And honestly, they're just like comfort teachers. But now my favorite place is a theatre [department] office. I love the office, hanging out in there. I love just being around Minor and Baskin and Jo and just like like the flow of energy that comes in and out literally like right now people are walking through the door. And it's just nice being around all those conversations and people I don't get to see as often but I wish I could see more. 
What advice would you give to 13-year-old you? Put in a little bit more time into the things that you really enjoy. I did a lot of dance. I think by then I had quit doing Summer on Broadway. So I hadn't done as much acting. I was still in choir. So I would tell Jade to just do more of what she loves… If you like something you do, don't feel like you're copying someone, or that like you're not acting of your own will. If you do something or put more effort into something, it's because you want to– not because you feel that everyone else is making you do it.
Leave a Comment
About the Contributor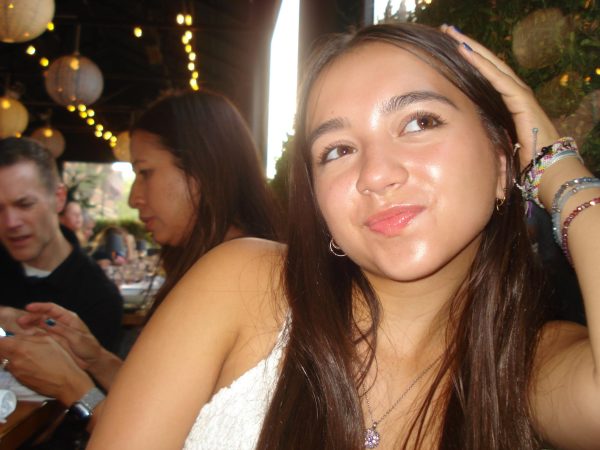 Penelope Roewe, Managing Editor & Opinion Editor
Penelope is a junior and this is her third year on NSN, serving as Managing Editor and the Opinions and Photos editor. She loves to express her opinions...