Meera Sahrawat, Junior
What is your name and grade? My name is Meera Sahrawat and I am a junior.
Where were you born? I was born in Chicago, IL on February 11, 2006. 
How do you think coming from two different cultures affected your upbringing? It's confusing because you're never "enough" of one community. You have two communities you can belong to, but you only participate halfway. It was overall fun and has definitely shaped how I see the world today.
How has this shaped your view of the world? Well, I feel like identity and labels are very subjective. Even when they are "set in stone". It has also helped me appreciate differences. Especially with people who you wouldn't assume you would like. Also, it has helped me have more grace with people who hold different opinions than me because there are not many different types of people within my own family.
What type of extracurricular activities do you participate in? I'm in swimming and DECA.
What inspired you to join DECA? I joined all of the clubs I could freshman year on zoom. But I stayed with DECA after e-learning because of how supportive the entire environment was. The upperclassmen always made me feel included.
What is your favorite part of being in DECA? The environment and getting to earn about something you're interested in while being in a positive and competitive environment. The people that surround you are always trying to help you out, and that goes for the students and the advisors. 
What do you think DECA has taught you? I think that it's taught me how to communicate and helped me improve my skills with working with others. It has taught me to lead and make compromises, and balance many things that you care about. 
What inspired you to start swimming? My mom swam in high school and I always thought swim lessons were fun. 
What's your favorite stroke in swimming and why? Butterfly, because it is really fun and I feel like it is easier to see the linear progression; you put your work in, and you get results. 
What do you think swimming has taught you? It's taught me how to work hard and have long-term goals that I need to work towards. It's also taught me how to love a community and the importance of friendships because they'ĺl get you through hard times. Shout out to my coaches, Coach TJ and Coach Seth! 
How do you manage your time and juggle all your extracurriculars with school? I always prioritize school work and academics, but sometimes that prioritization changes on a daily basis. I get my work done, it's ok to not do something you love every day, and sometimes those priorities change, but again, that's all okay! You just gotta figure out what works best for you and stick with it. 
Leave a Comment
About the Contributor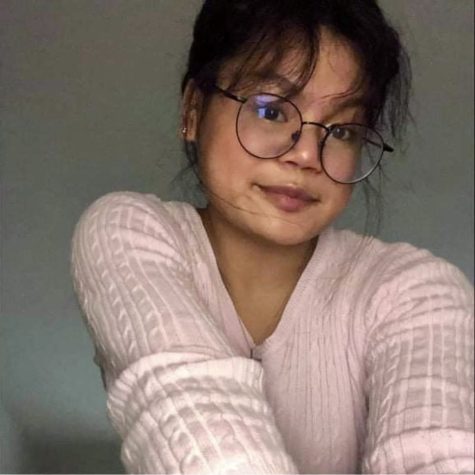 Jana Guerra, Reporter
Jana Guerra is a senior at Niles North. In her free time, she enjoys playing the piano and violin, driving in the city, and listening to horror podcasts.