NSN Managing Editor Stanciu wins National Spanish Honor Award, trip to Costa Rica
On Feb. 6, junior and Managing Editor for North Star News Aiden Stanciu won the National Spanish Honor Award, one of 18 high-school juniors selected in the country. 
According to the American Association of Teachers of Spanish and Portuguese (AASTP) website, the Bertie Green Travel Award gives winners a chance to travel to a Spanish-speaking country for one week; for the 2023 summer, the juniors will get to explore Costa Rica. 
"Learning and immersing myself in the study of foreign languages is undoubtedly one of my strongest passions and the Spanish language, in particular, has held a special place in my heart by opening countless cultural doors for me through elements of music, film and cuisine," Stanciu said. "I feel extremely grateful to have been selected as one of just 18 applicants in the country to win this travel opportunity because it has served as a rewarding validation of the time and energy I have invested into attaining a more comprehensive knowledge of the Spanish language."
Stanciu will get to zipline through the rainforest near the iconic Arenal Volcano, hike through scenic Cahuita National Park and participate in a community service project that consists of maintaining the grounds of public schools and building a bus stop. Even with a rockstar itinerary, Stanciu hopes to continue cultivating his Spanish-speaking skills. 
"Ultimately, I hope this journey will allow me to adequately immerse myself in an authentic Spanish-speaking environment while building a stronger sense of independence, flexibility and teamwork in the process," he said. 
In order for Stanciu to get selected, he needed a video component, an essay component, a transcript and letters of recommendation from both a teacher and another adult. Applicants were graded on a rubric from one to five. 
"In my 29 years that I've taught here, I've never had a student as knowledgeable about grammar and as fluent as Aiden," Spanish teacher Pamela Benitez, a writer of Stanciu's letter of recommendation said. 
Stanciu is also the co-vice-president of Niles North's Spanish Honor Society chapter, and because of his work, also helped to boost his application. 
"Schools around the country are allowed to have one student nominated to apply for this award, and so there were a lot of students that applied for this. Being co-vice-president definitely gave him an edge for sure," Benetiz said.  To learn more about the awards, check out the AASTP website.
Leave a Comment
About the Writer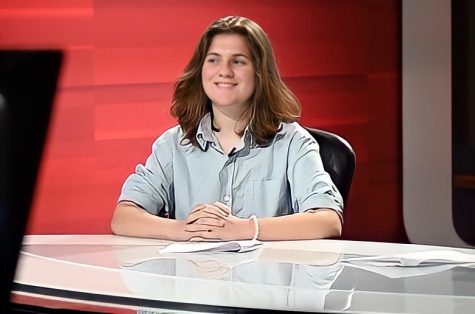 Olivia Frey, Editor-in-Chief
Olivia (Liv) Frey is the Editor-in-Chief and Opinion Editor of North Star News. Ever since joining NSN her freshman year, she has grown a deeper love...